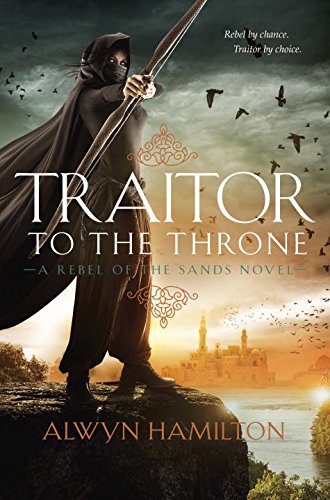 Publisher's Note:
The sizzling, un-put-downable sequel to the bestselling Rebel of the Sands!

Mere months ago, gunslinger Amani al'Hiza fled her dead-end hometown on the back of a mythical horse with the mysterious foreigner Jin, seeking only her own freedom. Now she's fighting to liberate the entire desert nation of Miraji from a bloodthirsty sultan who slew his own father to capture the throne.

When Amani finds herself thrust into the epicenter of the regime—the Sultan's palace—she's determined to bring the tyrant down. Desperate to uncover the Sultan's secrets by spying on his court, she tries to forget that Jin disappeared just as she was getting closest to him, and that she's a prisoner of the enemy. But the longer she remains, the more she questions whether the Sultan is really the villain she's been told he is, and who's the real traitor to her sun-bleached, magic-filled homeland.

Forget everything you thought you knew about Miraji, about the rebellion, about djinni and Jin and the Blue-Eyed Bandit. In Traitor to the Throne, the only certainty is that everything will change.
This book was sent to Compass Book Ratings for review by Viking
Traitor to the Throne
by Alwyn Hamilton
Overall Review:
Traitor to the Throne is the second novel in the Rebel of the Sands series. If you haven't read the first one, I highly encourage you to do so before starting this one. While you may be able to follow the storyline in this second novel, the first will provide you with much of the backstory. Without the backstory, this book will seem lacking and confusing to most. However, with the backstory, this book is a wonderful piece of literature.
The Blue-Eyed Bandit, Amani is back. But when fate seems to tip the scales and she is captured her whole world gets turned upside down. And that's the greatest word to sum up this book--perspectives. While this novel contains all the fanciful magic and beings that the first one did, it also pulls the reader into thoughtful consideration. Who is a good and just ruler? Who has the better interests of Miraji and its people at heart? Who is a traitor and who is just playing the rules of the royal game? Amani finds herself tossed into a world where she isn't quite sure what she always believed is the absolute truth.
This book also tackles tough subjects. Parental love and what that looks like. Loyalty and whether it is freely given or earned. The ability to survive and what lengths people will go to in order to assure that they are still standing when the dust settles. They all are wonderful topics for inclusions into a page turning novel.
At over 500 pages, this book is a little bit of a longer read. However, Alwyn Hamilton has done such a masterful job of weaving intrigue and passion and thought together that it hardly seems noticeable. Anyone looking for a great read will love it. Here's to hoping this isn't the end of Amani's story!
Content Analysis:
Profanity/Language: 14 religious exclamations; 42 mild obscenities; 4 religious profanities; 7 derogatory names; 4 anatomical terms.
Violence/Gore: Character cuts off another's hair in malice; numerous verbal threats of bodily harm or death; several reports of death in battle or murders/accidents; numerous cuts, scrapes, bumps, bruises and other minor injuries; magical powers used to churn up sandstorms, break bones and eat people; several instances of fights ending in non-lethal injuries; dead bodies are strung up as lanterns; two scenes of beheadings with minimal detail; several depictions of bloody wounds, childbirth and battle scenes with blood depictions; few scenes of people being killed by gun shot, sword wounds or other weapons including one 2 page extended scene.
Sex/Nudity: Hugging, kissing and hand holding; few scenes of characters being either wholly naked from waist up (males) or females being stripped with minimal detail; three references to having sex; discussion of infidelity leading to pregnancy; couple lay together twice while clothed; hand to lower back to lead; caress of face; intimate hug; discussions regarding harem "wives" and offspring; kidnapping for purpose of prostitution; one extended one page scene where two characters remove each other's clothing while kissing and caressing each other.
Mature Subject Matter:
Socioeconomic inequality, death, war, marriage infidelity, prostitution, harems, ethics.
Alcohol / Drug Use:
Drinking of alcohol at wedding and funeral celebrations.
Reviewed By Beckie