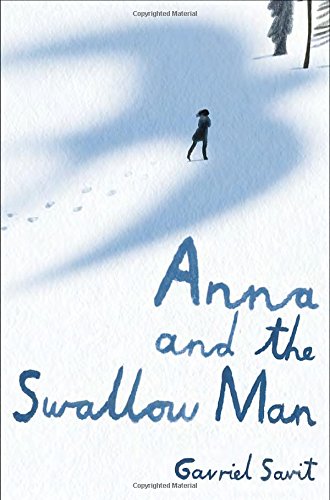 Publisher's Note:
A New York Times Bestseller
A Publishers Weekly Best Book of the Year
A Shelf Awareness Best Book of the Year
A Bulletin Blue Ribbon Book
Winner of the Indies Choice Book Award
Winner of the Sydney Taylor Book Award


"Exquisite." —The Wall Street Journal

"This is masterly storytelling." —The New York Times Book Review

A stunning, beautiful, and ambitious debut novel set in Poland during the Second World War perfect for readers of All the Light We Cannot See and The Book Thief.

Kraków, 1939. A million marching soldiers and a thousand barking dogs. This is no place to grow up. Anna ?ania is just seven years old when the Germans take her father, a linguistics professor, during their purge of intellectuals in Poland. She's alone.

And then Anna meets the Swallow Man. He is a mystery, strange and tall, a skilled deceiver with more than a little magic up his sleeve. And when the soldiers in the streets look at him, they see what he wants them to see.

The Swallow Man is not Anna's father—she knows that very well—but she also knows that, like her father, he's in danger of being taken, and like her father, he has a gift for languages: Polish, Russian, German, Yiddish, even Bird. When he summons a bright, beautiful swallow down to his hand to stop her from crying, Anna is entranced. She follows him into the wilderness.

Over the course of their travels together, Anna and the Swallow Man will dodge bombs, tame soldiers, and even, despite their better judgment, make a friend. But in a world gone mad, everything can prove dangerous. Even the Swallow Man.

Destined to become a classic, Gavriel Savit's stunning debut reveals life's hardest lessons while celebrating its miraculous possibilities.
Anna and the Swallow Man
by Gavriel Savit
Overall Review:
Anna and the Swallow Man--where does one even begin with this book? It is so hard to categorize--in so many ways. Being published by Knopf Books for Young Readers might lend one to thinking it is a young adult book, but one of the characters is a little girl and the other an older man. The writing style also lends itself to an older reader. It didn't feel like a young adult book.
If you are a reader who likes answers and closure, don't pick up this book or get used to disappointment. The author even in the epilogue delivers a thinly veiled message to the reader, saying that questions are better than knowledge.
This book's language is absolutely and utterly exquisite. Beautiful descriptions, metaphors, fables, similes--the best that language has to offer. If you love language, you will love this text. The genre itself falls somewhere between historical fiction and a fable.
However, this novel left me feeling completely mixed. In some ways it was brilliant, but it was so sorrowful and cruel I also hated it.
I initially picked up this book in audiobook form because the audio version had won an award, and I am always on the hunt for a great audiobook. The reader, Allan Corduner, was magnificent. Frankly, I don't know if I would have been as enchanted with the paper version because of the long descriptive passages and lack of plot (for a while I was convinced the author was French), but this listener, well, he had me hanging on his every word even though I ultimately can't conclude how I feel towards this book.
Review of the unabridged audiobook
Content Analysis:
Profanity/Language: 3 religious exclamations; 1 scatological word; 2 f-word derivatives.
Violence/Gore: Report parent taken to camp with implied death; bullet casings found; girl hears sounds of gunfire in mass execution nearby and sees the bodies later, intense scene; reference and talk about soldiers, battles, WWII, ghettos and concentration camps, possibility of being killed; characters are shot at by soldiers and injury results; young girl and adult forage for food from bodies of dead men; characters, including young girl, come across open mass grave and young girl walks across bodies and starts to forage but is stopped by adult, intense scene; a house has been bombed and girl sees a "blue hand" in the rubble; character is shot and injured severely with mention of blood; medic is described briefly as being covered in blood; girl and adult come upon someone who has been hanged and they cut the body down; character said that he slit someone's throat in thei rsleep; character says (not in jest) that the meat they saw wrapped in a package was actually a human arm.
Sex/Nudity: A man would like to have his way with a young girl and verbally implies that; implied that a girl is starting to go through puberty; adult male forces as girl/teenager (exact age is unclear) to undress and do unspecified things as he watches, no specific descriptions, but a very upsetting scene.
Mature Subject Matter:
Death, death of a parent, anti-Semitism, homelessness, prejudice, war, Jewish ghettos, murder, starvation/extreme living conditions, sexual exploitation of a minor, mental disorders/illness.
Alcohol / Drug Use:
Adults drink vodka; adults smoke; mention of cigarettes.
Reviewed By Cindy