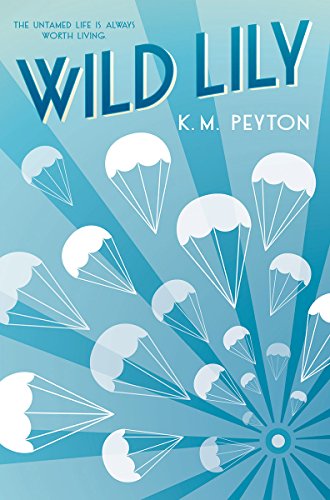 Publisher's Note:
It's the 1920s -- cars and planes are new.

Lily Gabriel is scruffy and confident and takes no nonsense from anyone. Antony is rich, spoiled, and arrogant, and Lily is completely and utterly -- no nonsense! -- in love with him.

So join Lily as she falls... Falls in love... Falls out of the sky... Falls through time...

And effortlessly, inescapably, falls into her future.

Life is never what you expect or what you predict. But if you're lucky, you hold onto exactly what you need -- a young and wild heart. Wild Lily is a striking, timeless coming-of-age story that reminds us that the untamed life is always worth living.
This book was sent to Compass Book Ratings for review by Scholastic
Wild Lily
by K.M. Peyton
Overall Review:
The adventure begins in a small European town in the early 1900s with two unlikely friends: extremely wealthy 17-year-old Antony and 13-year-old impoverished Lily. She is the type of person many would love to befriend. She is fun, full of life and deeply devoted to those she cares for. While Lily lives a difficult life of having to work alongside her father and never getting ahead, Antony lives the high life. He asks for it and it's given to him. It would seem they have nothing in common and yet their friendship thrives. Lily will do anything for Antony, and you often wonder when Antony will push her too far but it seems she has no breaking point. Antony isn't someone who many say "no" to. Unfortunately, Antony's perfect, easy-going life becomes very complicated.
Wild Lily is full of surprises. The characters especially keep you guessing; just when you think you know what one will do, they shock you with a different outcome. Having never read K.M. Peyton before, I anxiously look forward to enjoying more of her work because she is clearly a seasoned author. Her descriptions are spot-on, providing the perfect amount of detail with just enough left to the imagination. One instance, in particular, is the way she explains how Lily feels while skydiving. Either Peyton's gone herself or she did a lot of research to describe it precisely. Wild Lily is an excellent coming-of-age story that will have you intrigued throughout. If you think you can predict the ending, try again. It will more than likely not include the "happily ever after" you expect and yet, it's believable and perfect.
Review of an Advance Reader's Copy
Content Analysis:
Profanity/Language: 41 religious exclamations; 7 mild obscenities; 7 derogatory names; 1 anatomical term.
Violence/Gore: Many (27) brief incidents including character assumes a death will occur; character joking about crashing or catching on fire; character dreaming about death; joking about wanting to die; character wanting to hit another; character saying he'll die if a friend dies; characters joking about and considering suicide; character mentioning the possibility of getting bombed during war; secondhand reports of characters dying; reference to people getting killed during war; characters play-fight; mention of drownings and suicides; reference to dead bodies getting stinky and maggots on them; character hearing another character getting shot and killed; character admitting to having killed others; characters fighting; throwing rocks at a dog; character attempts to commit suicide then changes mind and becomes severely injured; dog dies; character dies.
Sex/Nudity: Several (19) brief incidents including hugging; kissing; arm around; holding hands; teenage boys swim naked (non-sexual); character thinks another is "sexually attractive"; secondhand report of an affair; female character sleeps beside male character (nothing happens); female character sits on male character's lap.
Mature Subject Matter:
Death, murder, child says he will steal (he doesn't), underage drinking, suicide.
Alcohol / Drug Use:
References to adults drinking; teenagers drink at party; male character says he might get ladies drunk; teenagers drinking beer; adult men smoking.
Reviewed By Jenny