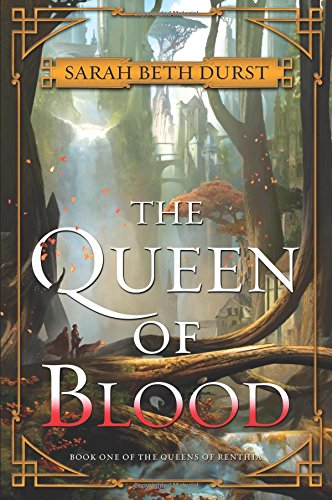 Publisher's Note:
A Tor.com Best of 2016 pick!
Set in the magical world of Renthia, The Queen of Blood is Sarah Beth Durst's ambitious entry into adult epic fantasy. With the danger of Peter Brett's The Warded Man, heart of Naomi Novik's Uprooted, and lyricism of Patrick Rothfuss' The Name of the Wind, this is the first chapter in a series destined to be a classic.
Everything has a spirit: the willow tree with leaves that kiss the pond, the stream that feeds the river, the wind that exhales fresh snow . . .
But the spirits that reside within this land want to rid it of all humans. One woman stands between these malevolent spirits and the end of humankind: the queen. She alone has the magical power to prevent the spirits from destroying every man, woman, and child. But queens are still just human, and no matter how strong or good, the threat of danger always looms.
With the position so precarious, young women are chosen to train as heirs. Daleina, a seemingly quiet academy student, is under no illusions as to her claim to the throne, but simply wants to right the wrongs that have befallen the land. Ven, a disgraced champion, has spent his exile secretly fighting against the growing number of spirit attacks. Joining forces, these daring partners embark on a treacherous quest to find the source of the spirits' restlessness—a journey that will test their courage and trust, and force them to stand against both enemies and friends to save their land . . . before it's bathed in blood.
The Queen of Blood
by Sarah Beth Durst
Overall Review:
This is a dark story set in the world of Renthia which is, by its nature, a violent and hostile environment for humans. In Renthia, everything has a spirit - rocks and woods, river and streams, the very air itself. Without these elemental creatures to nurture the land and make things grow, Renthia could not exist. But these spirits have a natural antipathy toward humankind, and their desire to create is equaled only by their need to kill. In order to combat the spirits' natural bloodlust, women who are born with an innate affinity to spirits and the ability to command them are trained to become heirs, with the possibility of one of them one day becoming queen. Only the queen possesses enough power to keep the spirits in check and prevent their predominant savagery from destroying humanity.
The main character, Daleina, is a young girl with limited affinity to spirits. However, after witnessing the destruction of her entire village by rampaging spirits, she is determined to hone what little ability she has and train in an academy to become an heir, that she might never again be so helpless in the face of such violence. But while she struggles to master her prowess over the spirits of fire, water, earth, air, ice and wood, a malevolent force is at work in secret. A conspiracy, with the goal to undermine the heirs and maintain power, even at the cost of innocent lives and even at the construction of an uneasy alliance with the very spirits intent on eradicating humanity.
Sarah Beth Durst creates an interesting and complex world in Renthia. It relies heavily on the existence of spirits in order to flourish, yet those very spirits are capable of (and indeed prone to) wanton malice and savagery against humans. I was drawn into Daleina's story, and invested in her personal struggles to overcome her weaknesses and strive for her goal of becoming an heir. Because of the savage premise, this is by nature a violent book with a continuous violent undercurrent. However, the author handles it well, making it clear this is how the world operates, and the people are accustomed to it and find it ordinary. It was an intriguing read, insomuch I would be willing to pick up the next book (or two) as they are published and continue to explore the world of Renthia.
There were a few sexual scenes, most of which I found unnecessary to the plot and skimmed over. Other than that, this was a gripping read with a heroine that displayed a refreshing humility. I would recommend The Queen of Blood for readers of Victoria Schwab, Sarah J. Maas, and Victoria Aveyard.
Content Analysis:
Profanity/Language: 8 mild obscenities; 1 scatological word.
Violence/Gore: Many instances of violence, including but not limited to: Characters are frequently attacked/injured by magical elemental-type "spirits"; a character is reported to having been torn apart and killed (not shown); characters hear screaming as a village is attacked (some description of blood and injuries); characters occasionally have wounds and/or injuries tended; a character sees the bodies of the dead in the aftermath of an attack; a character reports wanton slaughter; characters show off scars from previous attacks; characters are subjected to tests dealing with elemental spirits; a character sees a girl with a blood-soaked tunic; there are some reports of injuries such as concussion, broken limbs, loss of limbs, etc.; characters occasionally catch and kill animals for nourishment; a few times, characters engage in battles or skirmishes, usually with some description of violence (not overly graphic); secondhand report of someone dying from natural causes; a character accidentally sets a room on fire; a character sometimes has flashbacks to a traumatic childhood incident; characters sometimes cause creatures to injure themselves or others; in a few instances, characters are crushed to death by magical means (not overly graphic); a character is attacked and almost killed by a malevolent spirit, with some description of injuries; spirits occasionally attack villages, with some description of deaths and injuries (usually extensive scenes, but not overly graphic); characters discuss the potential benefits of poisoning someone; a character is deliberately pushed off a platform; characters are sometimes bitten/wounded/attacked by spirits under their control; a few characters are killed; a character admits to sacrificing people for the sake of maintaining power; characters antagonize and kill rogue spirits; there are several instances of people being viciously attacked, maimed or killed, with some description of violence (usually not overly graphic); a character rends the body of a deceased person (not overly graphic); a character feels responsible for the numerous deaths following a planned coup d'etat; a character cuts herself on glass; a character drinks blood as an oath.
There is one particularly violent scene where characters are trapped and attacked by hordes of spirits, with much description of wholesale slaughter. There are descriptions of the flesh torn from someone's throat, a character pierced with arrow-like branches, vines "poured down" a character's throat, a character dead and sliced in half with limbs missing, and a character dragged into the earth and pulled apart. It is fairly descriptive, and while not graphically explicit, it can still be quite disturbing to read.
Sex/Nudity: Characters recall embracing in an "uncousinly" manner; a character puts her hand on a man's chest; female characters sometimes bathe, either singly or together (not sexual); characters occasionally discuss marriage and children; a character thinks about going to bed with her husband; a character invites a male character into her bed, she takes off his shirt and they touch and kiss (not overly sexual, but can be uncomfortable); characters gossip if two characters slept together; a character "relieves" herself; characters sometimes kiss and hold each other; a character puts his arm around a female character's waist; a male character looks a female character up and down, as though implying sexual innuendo; a character removes her shirt so a male healer can tend her wounds, they kiss and hold each other (not overly sexual); characters occasionally caress/kiss/touch each other; characters are occasionally described/implied as being in bed together; a character draws male character into her bedchamber; characters occasionally gossip about others' love lives; a character recalls someone's sweet kisses; a character is referred to as someone's lover; a character's body is described as "soft with kisses"; a female character removes her dress in the presence of a male character, and he cups her breasts and holds her while she is naked.
Mature Subject Matter:
Death, battle, suicide (reported), childhood trauma, cheating, betrayal, blood oaths, training resulting in injuries.
Alcohol / Drug Use:
A character smells of "wisteria and also wine"; characters are said to enjoy drinking in taverns; a character is given medicine to help her sleep; a character gathers herbs and berries for medicinal purposes; characters discuss poisoning a character; a character is given pain killers for injuries; a character distills poison into a bottle; a character drinks blood as an oath; a character is poisoned.
Reviewed By Katrina