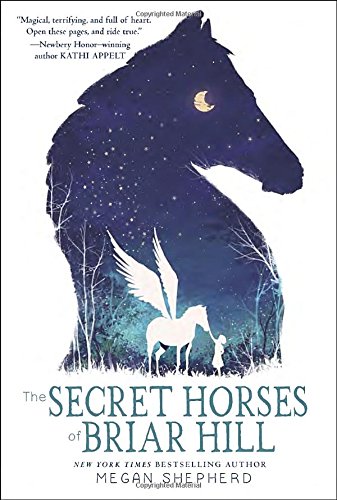 Publisher's Note:
Described as "reminiscent of the Chronicles of Narnia" in a starred review, The Secret Horses of Briar Hill shows readers everywhere that there is color in our world—they just need to know where to look.

There are winged horses that live in the mirrors of Briar Hill hospital—the mirrors that reflect the elegant rooms once home to a princess, now filled with sick children. Only Emmaline can see the creatures. It is her secret.

One morning, Emmaline climbs over the wall of the hospital's abandoned gardens and discovers something incredible: a white horse with a broken wing has left the mirror-world and entered her own.

The horse, named Foxfire, is hiding from a dark and sinister force—a Black Horse who hunts by colorless moonlight. If Emmaline is to keep him from finding her new friend, she must surround Foxfire with treasures of brilliant shades. But where can Emmaline find color in a world of gray?
The Secret Horses of Briar Hill
by Megan Shepherd
Overall Review:
This is one the prettiest stories I've read in a long time. It is sweet and sad, thoughtful and frightening, brutal and beautiful all at once. Megan Shepherd takes a bit of fantasy, a bit of reality, and produces a real gem that is a delight to read.
The Secret Horses of Briar Hill is one of those clever tales that combines the starkness of a World War II children's hospital with the colorful fantasy of winged horses hiding in mirrors. Together, the blend conveys simple truths - beauty can be found even in the midst of war, and courage can hide in the frailest of humans.
Emmaline is the main character--empathetic and sympathetic. Told from a first person point of view, we see her thoughts and fears, her feelings and memories as she exists day by day in Briar Hill, a tuberculosis hospital. Emmaline, suffering from the "stillwaters" like the other children around her, has a secret she hasn't told anyone else - there are winged horses living in Briar Hill's mirrors. She believes they only exist in that mirror world, until one day in the garden, she discovers a white winged horse named Foxfire.
This is a story full of heartache and tension. Emmaline proves to be an indefatigable character, fighting her own battle against the relentless stillwaters in her lungs while becoming Foxfire's protector against a malevolent dark force known as the Black Horse.
There are unexpected twists, a startling conclusion, and scenes you can see coming a mile off, yet still feel broken by. The Secret Horse of Briar Hill is reminiscent of The Chronicles of Narnia, and sure to be loved by all who read it.
Content Analysis:
Profanity/Language: None
Violence/Gore: Report of a character finding a torn-apart chicken; implication that a character lost his family as war casualties; a character is sometimes bullied by another child; characters perform an air-raid drill; a young male character tells scary stories to a group of children; a character is scared by a violent storm; a magic creature is pursued by a dark force; characters occasionally cough up blood; it is implied a character was in a house fire; a character's father is killed in action; a character talks about past city bombings; a character kicks someone in the backside; characters are sometimes hunted/pursued by an otherworldly creature; a character is dying of tuberculosis, with some description of her spasmodic coughing up of blood (not overly graphic); a character accidentally claws someone with her fingernails; a character fights and pushes another character; a character dies; a character's illness is described occasionally; characters occasionally argue and fight; a character is delirious; a character believes someone is dying; a character overhears people talking about the deaths of her family; a very ill character goes into a snowy night; a character accuses someone of lying; a character battles her illness to protect something under her charge; a character is attacked by a dark force, with some description of her injuries (not graphic).
Sex/Nudity: A character sees someone pee outside; a character confesses to never being kissed; a character says someone will have babies one day; a character accuses someone of using an outside loo to feel the wind on her "bum".
Mature Subject Matter:
War, death, illness, theft, trauma, disease.
Alcohol / Drug Use:
Two young boys are found smoking cigarettes; characters are sometimes given medicine for tuberculosis.
Reviewed By Katrina