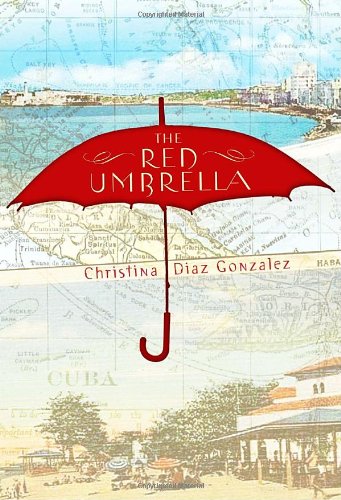 Publisher's Note:
This book was sent to Compass Book Ratings for review by Alfred A. Knopf
The Red Umbrella
by Christina Diaz Gonzalez
Overall Review:
Lucía loves her life in Cuba: a wonderful family, a best friend who loves fashion just as much as she does, a cute boy who seems to return her crush. Everything seems perfect, just what a girl on the cusp of her quinceañera could hope for. It all changes, though, as Fidel Castro's revolution becomes more intense. Suddenly, Lucía is exposed to horrifying truths—and she and her family have no one left they can trust. Lucía and her brother, Frankie, are faced with a new life—one they'd never even have imagined.
"The Red Umbrella" is a haunting story, based on the experiences of Christina Diaz Gonzalez' own parents. Lucía's voice was sweet and engaging, and I was quickly drawn into her story. At times the novel seemed to skip around a little too much, and I had a hard time connecting to some of the characters because of that, but overall I loved the way "The Red Umbrella" gave me a peek into the far-reaching effects of Castro's communist Cuba. Although the book deals with some difficult subjects, the story is gently told and well-suited to both older and younger teenagers.
Content Analysis:
Profanity/Language: 1 derogatory term (a Cuban girl mispronounces the English word "beach" and is corrected.)
Violence/Gore: 2 scenes of mild violence (fist fights, etc). 2 scenes of non-detailed execution (two children see a soldier hold a gun to a man, and when they later hear a shot, assume that he has been killed; a girl sees a man who has been hanged in a public park).
Sex/Nudity: Characters flirt, dance together, hold hands, and kiss. A boy tries to force a girl into some sort of intimacy (how much is not implied) with him; she runs away.
Mature Subject Matter:
War, communism, loss of freedom, children leaving parents, political unrest, betrayal by loved ones.
Alcohol / Drug Use:
***
Reviewed By CindyB