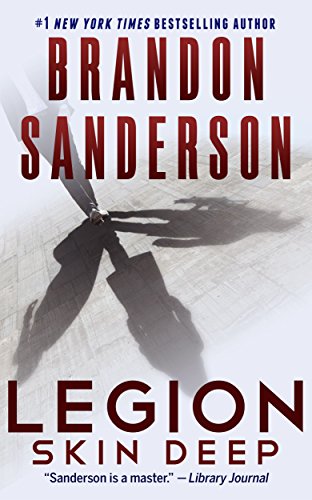 Publisher's Note:
From #1 New York Times bestselling author Brandon Sanderson, Stephen Leeds is back in a new, double-length novella that Library Journal says has "the pulse of a thriller and the hook of a fascinating hero balancing on the edge of psychosis."

It's not his own genius that Stephen Leeds gets hired for. Clients want to tap into the imaginary experts that populate his mind—and it's getting a bit crowded in there.

Now Stephen and his internal team of "aspects" have been hired to track down a stolen corpse—but it's not the corpse that's important, it's what the corpse knows. The biotechnology company he worked for believes he encoded top-secret information in his DNA before he died, and if it falls into the wrong hands, that will mean disaster.

Meanwhile, Stephen's uneasy peace with his own hallucinations is beginning to fray at the edges, as he strives to understand how one of them could possibly have used Stephen's hand to shoot a real gun during the previous case. And some of those hallucinations think they know better than Stephen just how many aspects his mind should make room for. How long will he be able to hold himself together?
Legion: Skin Deep
by Brandon Sanderson
Overall Review:
"I'm not crazy, I'm compartmentalized. Unfortunately, my aspects...well, they tend to be a little unhinged."
In this captivating sequel to Legion, Stephen Leeds, a man with amazing intellectual abilities who hallucinates parts of his mind as personified 'aspects', is hired to find the corpse of a dead scientist - a corpse that holds potentially dangerous secrets. Stephen enlists the help of his 47 aspects on this complicated case, and is again plunged into a dangerous race for time and his life.
While dealing with overzealous corporations and desperate people, and with an assassin on his heels, Stephen is confronted with an apparent unraveling of his mind. Though he is mostly aided by and kept company by the interesting banter between his aspects, his compartmentalization of his mind proves to be a disadvantage as he struggles to control his alters and their dynamics and complete his assignment unscathed.
Just like Legion, Skin Deep is a short, fast, sweet and intriguing read, and it is a clear testament to why Brandon Sanderson is a favorite of so many readers. It will be great to see where the Legion series leads.
Content Analysis:
Profanity/Language: 11 mild obscenities; 1 derogatory name.
Violence/Gore: A character shoots in the air to get attention; a man reportedly dies in a skiing accident that twists his head at an odd angle; a character is tackled and almost shot by an assassin; characters are kidnapped, threatened and imprisoned by an assassin; a character shoots to kill but misses.
Sex/Nudity: After scrutiny, a character concluded that another character has had breast surgery; a character expresses the desire for another character's breasts to be bigger.
Mature Subject Matter:
Hallucination, death, kidnapping.
Alcohol / Drug Use:
A character drinks wine.
Reviewed By Olamide