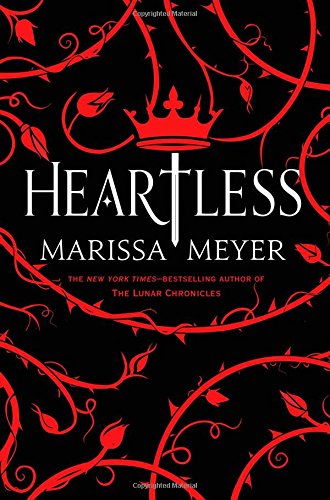 Publisher's Note:
Long before she was the terror of Wonderland?the infamous Queen of Hearts?she was just a girl who wanted to fall in love.

Long before she was the terror of Wonderland, she was just a girl who wanted to fall in love. Catherine may be one of the most desired girls in Wonderland, and a favorite of the unmarried King of Hearts, but her interests lie elsewhere. A talented baker, all she wants is to open a shop with her best friend. But according to her mother, such a goal is unthinkable for the young woman who could be the next queen.
Then Cath meets Jest, the handsome and mysterious court joker. For the first time, she feels the pull of true attraction. At the risk of offending the king and infuriating her parents, she and Jest enter into an intense, secret courtship. Cath is determined to define her own destiny and fall in love on her terms. But in a land thriving with magic, madness, and monsters, fate has other plans.
In her first stand-alone teen novel, the New York Times-bestselling author dazzles us with a prequel to Alice's Adventures in Wonderland.
Heartless
by Marissa Meyer
Overall Review:
To understand this review, one must know that I avoid reading book jackets at all costs. Yes, this does make it challenging to pick out books, but it has always seemed that the teasers give away a little too much and interfere with experiencing the book the way the author wrote it. If I had read the jacket on this book, then I would never have read it.
I picked up this title on the strength of the author's previous work, The Lunar Chronicles, which I quite enjoyed. As I read Heartless, I kept thinking, "Wow, these characters are flat and undeveloped," and "This protagonist isn't very likeable," and "Why isn't this author doing a better job world-building?" and "Nothing has really happened in this book and it is almost at the end. I guess the author will make things happen in the next book." After reading the jacket, all is revealed and I understand this book.
The author set out to write a stand-alone back story for the Queen of Hearts from Alice in Wonderland, similar to Greg Maguire's Wicked. I despised the book Wicked and found it pointless, deeply flawed, and depressing. (The musical fixed all its problems so go see that!) The author accomplished what she set out to do. If you liked Wicked, then you will probably like Heartless. If not, then definitely skip this one.
Content Analysis:
Profanity/Language: 1 mild obscenity.
Violence/Gore: Reference to someone going mad and killing self years ago; general report of attack of mythical creature resulting injuries, abduction w/ remains found; non-detailed, extended scene of attack by mythical creature resulting in the death of a creature and abduction of another (implied death); character transformed by magic; non-description extended scene of attack by mythical creature with injuries; character grabbed and detained; disturbing painting showing a man's severed head with executioner's axe covered in blood; multi-page conflict/struggle amount characters with injuries, beheading of mythical creature, human character beheaded by ax with mention of blood, but no description; desire/threats to kill another; (magically context) character stabbed and heart removed (character continued to live, no blood); character sentenced to have head removed.
Sex/Nudity: References to "fallen woman", "clandestine relationship"; character kisses another's hand; dream of kissing another; talk about marriage; flirtatious conversations and behavior; characters hold hands; characters embrace for practical purposes, but there is a romantic attraction; character spends a lot of time thinking about another in a romantic context; character has romantic dreams about another; characters hold hands, embrace, touch shoulder/waist/hair/etc.; talk of courtship and feelings; characters kiss passionately on several occasions; implication/understanding that a male character had romantic feelings towards/loved another male character.
Mature Subject Matter:
Death, treason, revenge, theft, homosexuality, madness.
Alcohol / Drug Use:
Caterpillar smoking a hookah pipe; social drinking.
Reviewed By Cindy