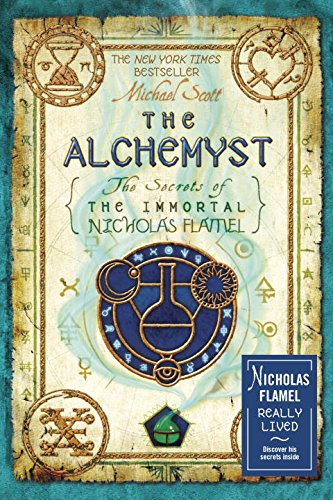 Publisher's Note:
Nicholas Flamel appeared in J.K. Rowling's Harry Potter—but did you know he really lived? And he might still be alive today! Discover the truth in Michael Scott's New York Times bestselling series the Secrets of the Immortal Nicholas Flamel with The Alchemyst, book one.

The truth: Nicholas Flamel was born in Paris on September 28, 1330.

The legend: Nicholas Flamel discovered the secret of eternal life.

The records show that he died in 1418.
But his tomb is empty.
Nicholas Flamel lives. But only because he has been making the elixir of life for centuries.
The secret of eternal life is hidden within the book he protects—the Book of Abraham the Mage. It's the most powerful book that has ever existed. In the wrong hands, it will destroy the world. That's exactly what Dr. John Dee plans to do when he steals it. Humankind won't know what's happening until it's too late. And if the prophecy is right, Sophie and Josh Newman are the only ones with the power to save the world as we know it.
Sometimes legends are true. And Sophie and Josh Newman are about to find themselves in the middle of the greatest legend of all time.

"[A] A riveting fantasy…While there is plenty here to send readers rushing to their encyclopedias…those who read the book at face value will simply be caught up in the enthralling story. A fabulous read."—SLJ, Starred

Read the whole series!
The Alchemyst
The Magician
The Sorceress
The Necromancer
The Warlock
The Enchantress
The Alchemyst: The Secrets of the Immortal Nicholas Flamel
by Michael Scott
Overall Review:
The Alchemyst by Michael Scott was a New York Times Best Seller published about ten years ago. (Has it really been a decade?) It is perhaps a series that might be unknown to the upcoming generation of young readers. In fact, it has many elements that put one in mind of the Percy Jackson series: teenage male and female protagonists, ancient gods, magical powers, a quest and road trip, and plenty of action. This book's action goes beyond rapid-fire to practically light speed as the events all transpire within about 48 hours. The ending is sufficient to wrap up the immediate storyline, but clearly lets the reader know there is much more to come.
Readers who like Percy Jackson will probably enjoy this series, too. A big bonus is that the series is already complete so back-to-back binge reading is totally an option.
Review of the unabridged audio version
Content Analysis:
Profanity/Language: None
Violence/Gore: Extended multi-page battle/confrontation scene involving magic, tackling, hitting with objects, explosions, destruction of property, minor injuries, and kidnapping; teenagers are told multiple times that they and their loved ones are in danger (implying death); report how a character has been pursuing others for years; a location is booby-trapped with blades and darts; extended multi-page battle involving animals, golems, humans and fighting with weapons, magic, and martial arts; extended scene of animals attacking resulting in car accidents and property damage; magic is used to destroy property; general references to ancient gods with battles, powers, deaths, etc.; characters practice sparring; extended multi-page scene of battle with magic, mythical creatures, humans--resulting in destruction, death of creatures, death of a goddess, implied death of a human; extended multi-page battle scene with magic involved fighting skeletons, mummified remains; explosion and destruction of property.
Sex/Nudity: A teenage boy thinks a young woman is attractive.
Mature Subject Matter:
Death.
Alcohol / Drug Use:
None
Reviewed By Cindy