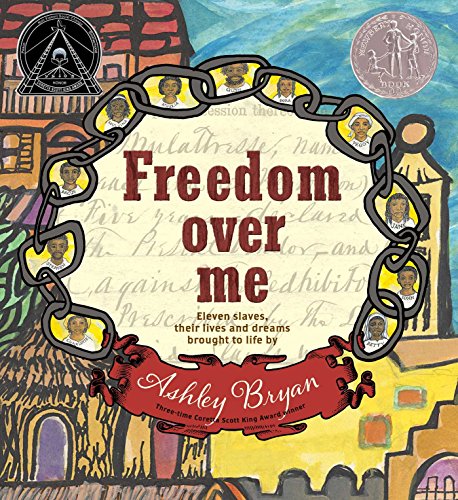 Publisher's Note:
Newbery Honor Book
Coretta Scott King Author Honor Book
Coretta Scott King Illustrator Honor Book

Using original slave auction and plantation estate documents, Ashley Bryan offers a moving and powerful picture book that contrasts the monetary value of a slave with the priceless value of life experiences and dreams that a slave owner could never take away.

Imagine being looked up and down and being valued as less than chair. Less than an ox. Less than a dress. Maybe about the same as…a lantern.

You, an object. An object to sell.

In his gentle yet deeply powerful way, Ashley Bryan goes to the heart of how a slave is given a monetary value by the slave owner, tempering this with the one thing that CAN'T be bought or sold—dreams. Inspired by the actual will of a plantation owner that lists the worth of each and every one of his "workers", Bryan has created collages around that document, and others like it. Through fierce paintings and expansive poetry he imagines and interprets each person's life on the plantation, as well as the life their owner knew nothing about—their dreams and pride in knowing that they were worth far more than an Overseer or Madam ever would guess. Visually epic, and never before done, this stunning picture book is unlike anything you've seen.
Freedom Over Me: Eleven Slaves, Their Lives and Dreams Brought to Life
by Ashley Bryan
Overall Review:
Freedom Over Me: Eleven Slaves, Their Lives and Dreams Brought to Life is a picture book, but not a picture book aimed at preschoolers. Written in subtle free verse, it tackles tough topics like slavery and the concept of people being treated as property. The artwork is strong and vivid and each of the eleven slaves has their portrait overlaid on a copy of a historical document or a collage of historical documents. Each character then has two pages of verse: one page describing their current life and responsibilities and one page describing their roots and their dreams. This is a good book for bringing the slave issue up close and personal to young readers. How can a person be treated as property? As if they were the same as a cow or a piece of farming equipment? This will be a text that will find wide application in school curriculum to generate critical thinking and discussion.
Content Analysis:
Profanity/Language: None
Violence/Gore: Report of death from natural causes; reports parents were killed in slave raids; report people died on slave ships; report of head injury; report of slave insurrections. (All general statements in nature and non-descriptive.)
Sex/Nudity: Statement that a slave stood "naked on the auction blocks".
Mature Subject Matter:
Slavery, racial discrimination, death of parents.
Alcohol / Drug Use:
None
Reviewed By Cindy