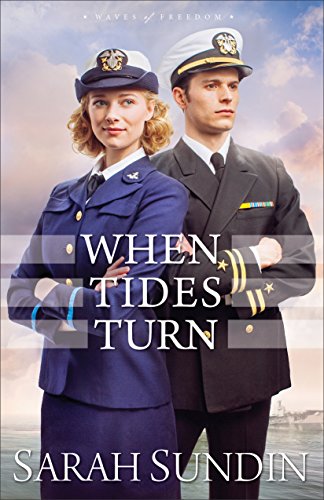 Publisher's Note:
When fun-loving glamour girl Quintessa Beaumont learns the Navy has established the WAVES program for women, she enlists, determined to throw off her frivolous ways and contribute to the war effort. No-nonsense and hoping to make admiral, Lt. Dan Avery has been using his skills to fight German U-boats. The last thing he wants to see on his radar is a girl like Tess. For her part, Tess works hard to prove her worth in the Anti-Submarine Warfare Unit in Boston--both to her commanding officers and to the man with whom she is smitten. When Dan is assigned to a new escort carrier at the peak of the Battle of the Atlantic, he's torn between his lifelong career goals and his desire to help Tess root out a possible spy on shore. The Germans put up quite a fight, but he wages a deeper battle within his heart. Could Tess be the one for him?

With precision and pizazz, fan favorite Sarah Sundin carries readers through the rough waters of love in a time when every action might have unforeseen world-changing consequences.
This book was sent to Compass Book Ratings for review by Revell
When Tides Turn
by Sarah Sundin
Overall Review:
When Tides Turn completes the Waves of Freedom trilogy by Sarah Sundin. This can certainly be read as a standalone, but the richness of the story and the characters is fully appreciated by reading all three books sequentially.
Historical fiction combines with well-crafted romance and mystery to keep readers not only entertained, but anxious to find out what comes next. This book is enjoyable. The romance is nice, because it is not one of those stories where people meet and three days later a marriage is being planned. In fact, the romance has a great deal more believable depth than many of the historical romances out there.
The main characters of the book are flawed and still figuring out who they really are. The book follows them as they discover themselves and their relationship with God. Sundin is a talented author who does a nice job of portraying war time events with style and sensitivity. Although it is sad to see this series end, Sundin nicely resolves her major plot points. Readers will be pleased to note that a new series is scheduled for 2018.
Content Analysis:
Profanity/Language: None
Violence/Gore: Report of people dying in wartime events such as ships sinking; naval warfare in which aircraft bomb water vessels; report of a man killed by poison; people are trapped in a burning building, it is later reported that hundreds died; a bomb is tossed inside a building, no casualties; people attempt to hang someone and make it look like suicide; guns are pointed at others; a report that a woman was raped and then someone else was killed.
Sex/Nudity: Someone suggests people think of women as prostitutes; non-married characters kiss; it is suggested that a man has a mistress.
Mature Subject Matter:
Death of family members, war.
Alcohol / Drug Use:
Adults consume alcoholic drinks.
Reviewed By Susan