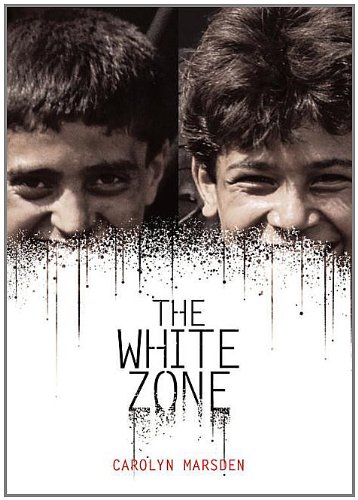 Publisher's Note:
Nouri and his cousin Talib can only vaguely remember a time before tanks rumbled over the streets of their Baghdad neighborhood when books, not bombs, ruled Mutanabbi Street. War has been the backdrop of their young lives. And now Iraq isn't just at war with Americans. It's at war with itself. Sunnis fight Shiites, and the strife is at the boys' doorsteps. Nouri is Shiite and Talib is half Sunni. To the boys, it seems like only a miracle can mend the rift that is tearing a country and a family apart.

In early 2008, Iraq experienced a miracle. Snow fell in Baghdad for the first time in living memory. As snow covered the dusty streets, the guns in the city grew silent and there was an unofficial ceasefire. During these magical minutes, Sunni and Shiite differences were forgotten. There was no green zone, no red zone. There was only the white zone.

Against this real-life backdrop, Nouri and Talib begin to imagine a world after the war.
This book was sent to Compass Book Ratings for review by Lerner Publishing Group
The White Zone
by Carolyn Marsden
Overall Review:
Nouri is a Shiite who has just lost his favorite uncle to one of the many martyr bombings. The martyr was a Sunni. Nouri's cousin, Talib, is half Sunni. Now Nouri begins to blame Talib for the bombing and death of his uncle. He begins to taunt Talib, then ignore him completely. The rift between the families continues to widen, as do the relationships between all the Sunni's and Shiite's. Talib doesn't understand why Nouri is acting this way, but when Nouri crosses the line, the roles suddenly reverse.
The White Zone is a rich coming of age story in a land plagued by war and hostility. Underneath all of the bombings, tazer fire, and tanks, lies the lives of the people of Iraq. This story tells of that war-torn land from the viewpoint of two children who are struggling to understand where they stand in life and where their loyalties lie. They begin to question friendships, family relationships, and even all-powerful Allah. The symbolism is lovely, the emotions are real, the violence is accurate and heartbreaking, while being tame enough for a young reader. This is a perfect introduction to the ongoing war in Iraq that children (and even adults) can relate to. We could all benefit from a White Zone.

Content Analysis:
Profanity/Language: 1 mild obscenity
Violence/Gore: Children play war and attack each other; A character wants to get even with a perceived enemy and builds a bomb while imagining what it will do; a character kicks another character multiple times in anger; A father slaps a son in the face; a family hides behind a table in their home during an extended battle outside (we are told of the sounds of gunfire and bombs); a character is shot in the head and those who shot him walk in his blood and track it over the street.
There are 3 extended (more than 2 pages long) descriptions of the aftermath of various bombings. These include shattered buildings, a few mentions of blood, and some dead people.
Several instances of 2nd hand violence, such as: bombings, killings, tazer fire, shootings, gangs, hate crimes, angry mobs, martyr bombings, etc.
Sex/Nudity: None
Mature Subject Matter:
Hatred, Prejudice, War
Alcohol / Drug Use:
***
Reviewed By Emily