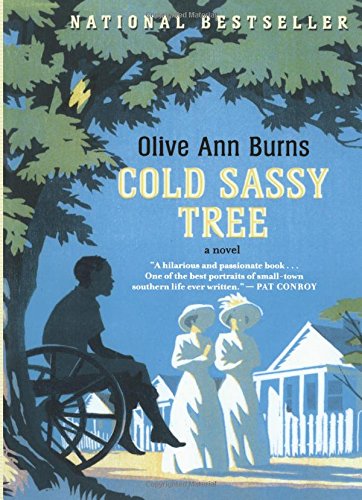 Publisher's Note:
The one thing you can depend on in Cold Sassy, Georgia, is that word gets around - fast. When Grandpa E. Rucker Blakeslee announces one July morning in 1906 that he's aiming to marry the young and freckledy milliner, Miss Love Simpson - a bare three weeks after Granny Blakeslee has gone to her reward - the news is served up all over town with that afternoon's dinner. And young Will Tweedy suddenly finds himself eyewitness to a major scandal. Boggled by the sheer audacity of it all, and not a little jealous of his grandpa's new wife, Will nevertheless approves of this May-December match and follows its progress with just a smidgen of youthful prurience. As the newlyweds' chaperone, conspirator, and confidant, Will is privy to his one-armed, renegade grandfather's second adolescence; meanwhile, he does some growing up of his own. He gets run over by a train and lives to tell about it; he kisses his first girl, and survives that too. Olive Ann Burns has given us a timeless, funny, resplendent novel - about a romance that rocks an entire town, about a boy's passage through the momentous but elusive year when childhood melts into adolescence, and about just how people lived and died in a small Southern town at the turn of the century. Inhabited by characters who are wise and loony, unimpeachably pious and deliciously irreverent, Cold Sassy, Georgia, is the perfect setting for the debut of a storyteller of rare brio, exuberance, and style.
Cold Sassy Tree
by Olive Ann Burns
Overall Review:
Cold Sassy Tree is an account of the lives and experiences of mischievous and fun-loving 14-year old Will Tweedy, his irreverent and intimidating grandfather, and the locals in the town of Cold Sassy, Georgia. Set in 1906, it tells of a scandal that consumes this small town where privacy is a myth.
This book dives right into things. It starts off with Will's larger-than-life grandfather marrying a much younger woman three weeks after his wife's death. This could not have happened in a worse place – in Cold Sassy, word gets around ridiculously fast, judgements are made quickly and opinions are spoken freely. Though centered on this event, the book largely tells about Will's extended family, his relentless pranks, his exciting yet simple country life, and the residents of this neighborly town in explicit and colorful detail. It also explores love, death and religion, all of which are abundant in Cold Sassy. Without any verbosity, Will's narration cleverly points to the future in a way that makes you want to keep reading, and makes you feel like you are right there in the town and know the characters personally.
Although the dated Southern language makes it a little difficult to follow sometimes, Cold Sassy Tree is funny, captivating, light-hearted, thought-provoking and unforgettable. It is a true treasure.
Content Analysis:
Profanity/Language: 4 religious exclamations; 4 mild obscenities; 3 derogatory names.
Violence/Gore: Secondhand accounts of human and animal death by train, tornado and sickness; a character almost gets run over by a train in a frightening scene; a character is attacked by a bull in a secondhand account; a brief, non-descriptive scene of suicide; a report of suicide; a character is severely beaten, resulting in death.
Sex/Nudity: A teenage character thinks and fantasizes about sexual matters a lot (For example, he thinks a lot about kissing girls his age as well as his grandfather's new wife, he often wonders what sex is like, in one scene he hopes his aunt will slip up and expose herself while nursing her baby, and he describes two women as flat-chested and big-busted.); many people speculate about a married couple's sex life; a character describes women's busts; a character slaps his wife's bottom playfully on a few occasions; characters kiss lightly in a few scenes; characters kiss passionately in a few scenes; characters kiss and caress faces, arms, stomachs and chests in two extended scenes; a report of rape.
Mature Subject Matter:
Natural deaths, suicide, racial and political segregation, rape (report of), teenager puberty and accompanying interest in related matters.
Alcohol / Drug Use:
Characters drink and smoke tobacco on many occasions; a character drinks whiskey every morning; a few obscure characters are drunkards; a teenager and adults spit tobacco juice on many occasions; a character commits suicide with an overdose of laudanum.
Reviewed By Olamide