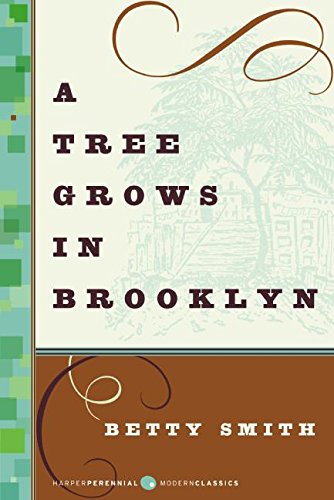 Publisher's Note:
The beloved American classic about a young girl's coming-of-age at the turn of the century, Betty Smith's A Tree Grows in Brooklyn is a poignant and moving tale filled with compassion and cruelty, laughter and heartache, crowded with life and people and incident. The story of young, sensitive, and idealistic Francie Nolan and her bittersweet formative years in the slums of Williamsburg has enchanted and inspired millions of readers for more than sixty years. By turns overwhelming, sublime, heartbreaking, and uplifting, the daily experiences of the unforgettable Nolans are raw with honesty and tenderly threaded with family connectedness -- in a work of literary art that brilliantly captures a unique time and place as well as incredibly rich moments of universal experience.
A Tree Grows in Brooklyn
by Betty Smith
Overall Review:
A Tree Grows in a Brooklyn is a unique book. It is not about events, but about people, their gifts and flaws, and how they live their lives. Although narrated by a happy child, it is jarring, sobering, eye-opening and thought-provoking. It will leave you either sad or hopeful.
Set in 1912, it tells the story of 11-year-old Francie Nolan's childhood in Brooklyn, New York, where she is exposed to poverty, sexism, racism, illiteracy, depression, humiliation, desperation and abuse – things that are much too heavy for one so young. However, the young protagonist, who is a voracious reader, has an active imagination and sees her world through a rose-colored lens. She chooses to see the beauty in everything, and so lives a blissful life with her loving family, despite their challenges. In looking past people's inadequacies and her family's poverty, Francie is able to control how her environment affects her. With a mother whose family has women made of 'thin invisible steel' and a father whose family has weak but talented men, Francie learns from an early age how to take care of herself and survive no matter what. She firmly believes that 'it takes a lot of doing to die'. Despite being surrounded by irresponsible impulsive adults and unruly children, Francie learns how to live responsibly and achieve her dreams.
While the book tends to be too descriptive in some parts, it successfully paints a vivid albeit ugly picture of Francie's life in Brooklyn and how it helps her grow. Though subtly funny, it forces the reader to contemplate harsh realities. Overall, it is a well-written story. Its brilliance lies in it being told from the point of view of a child. The way Francie sees magic in everything and draws positives from all her experiences transforms the story from a depressing read to a story about hope and resilience. It can be summarized in one of Francie's insightful thoughts:
'There had to be the dark and muddy waters so that the sun could have something to background its flashing glory.'
Content Analysis:
Profanity/Language: 8 religious exclamations; 3 mild obscenities; 8 religious profanities; 11 derogatory names; 3 scatological words; 2 anatomical terms.
Violence/Gore: Children fight; a group of little boys bully lone boys on two occasions; a boy throws a stone at a horse; children are flogged; people have drunken fights; child gets bloodied in a fight; child gets bloodied in a dangerous competition; while a character is being stoned, a stone hits a baby, drawing a little blood; reports of a man molesting little girls, killing one, but none of the incidences are described; a character is shot in the groin, after which area is stomped on repeatedly; a pregnant teenager is locked up and poorly fed in hopes that she and the baby will die.
Sex/Nudity: Characters kiss; lovers embrace for extended periods; a character kisses and undresses in front of lover; a character holds men to her bosom while consoling them on two occasions; a male character stares at a female character's bust; a character flirts with another; children are left with a picture of a scantily clad woman; rumors about people's sexual activities are spread, sometimes by children; a character is solicited by a prostitute; a character attempts to look seductive; a child's way of suckling his mother's breast and the way she weaned him are clearly described; a man attempts to molest a little girl and exposes himself to her in an extended and descriptive scene; a character is examined invasively by a paramedic in a brief and non-descriptive scene; a character asks lover to have sex; characters are touched inappropriately in brief and non-descriptive scenes; a teenager considers having sex but decides not to; sexual issues are discussed several times; because they have thin walls, a child clearly hears a neighbor forcing his wife to have sex with him every night.
Mature Subject Matter:
Extreme poverty, depression, racism, divorce, promiscuity, bigamy, abandonment, miscarriages, child molestation, fetishes involving children, death, children are born out of wedlock, unwanted and teenage pregnancy, bullying, vulgar language by children and adults, alcoholism, death of a parent.
Alcohol / Drug Use:
Characters drink and smoke on many occasions; a character is an alcoholic; it is implied that a teenager smoked a cigarette; there are incidences of children drinking coffee and picking up cigarette butts to smoke.
Reviewed By Olamide