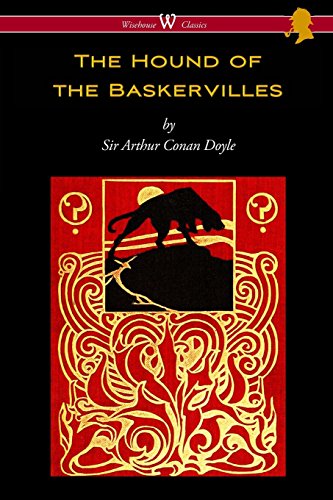 Publisher's Note:
The Hound of the Baskervilles is the third of the crime novels written by Sir Arthur Conan Doyle featuring the detective Sherlock Holmes. Originally serialized in The Strand Magazine from August 1901 to April 1902, it is set largely on Dartmoor in Devon in England's West Country and tells the story of an attempted murder inspired by the legend of a fearsome, diabolical hound of supernatural origin. Sherlock Holmes and his companion Dr. Watson investigate the case. This was the first appearance of Holmes since his intended death in "The Final Problem", and the success of The Hound of the Baskervilles led to the character's eventual revival.
The Hound of the Baskervilles
by Sir Arthur Conan Doyle
Overall Review:
The beautifully designed cover of the Wisehouse Classics edition is enough to attract anyone to read this book, and the icing on the cake is that it is the best kind of mystery – the kind that keeps you guessing every step of the way.
I have always found Sherlock Holmes books enjoyable and The Hound of the Baskervilles was no exception. It is about a special case that Sherlock Holmes and Dr. Watson have to solve involving a legendary beast that has terrorized the Baskerville family for generations. Holmes and Watson find themselves embroiled in their most challenging case yet, dealing with everything from scary mythical creatures to diabolical plans and damsels in distress, and their race against time makes for a thrilling adventure. The story was intriguing from the very beginning, and the continuous unfolding of the mystery was cleverly designed to keep the reader engaged.
Although short, The Hound of the Baskervilles is definitely brilliant, in large part due to Sherlock Holmes' amazing detective skills, as well as the puzzling horror the characters have to deal with. Some dated references were a little difficult to decipher, but that did not take away from the book at all; if anything, they helped to better visualize the period and scenes of events. I would definitely recommend this book to anyone who enjoys a good mystery.
Content Analysis:
Profanity/Language: None
Violence/Gore: Murders and animal violence are reported secondhand; humans and animals reportedly drown in a bog; a character is kidnapped; a woman is threatened and abused; violent and scary scenes are described; a dangerous beast attacks a character; a violent death occurs.
Sex/Nudity: Character courts woman, holds and tries to kiss her.
Mature Subject Matter:
Murder, kidnap, spousal abuse, marriage infidelity.
Alcohol / Drug Use:
Characters smoke tobacco on a few occasions, men get drunk in a reported incident.
Reviewed By Olamide