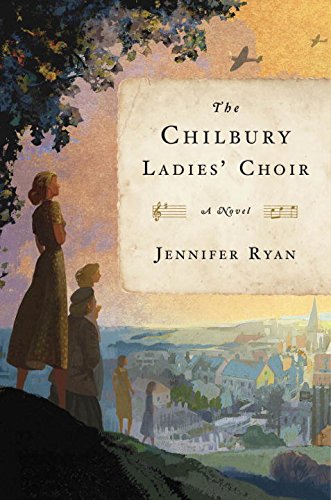 Publisher's Note:
"Just because the men have gone to war, why do we have to close the choir? And precisely when we need it most!"

As England enters World War II's dark early days, spirited music professor Primrose Trent, recently arrived to the village of Chilbury, emboldens the women of the town to defy the Vicar's stuffy edict to shutter the church's choir in the absence of men and instead "carry on singing." Resurrecting themselves as "The Chilbury Ladies' Choir," the women of this small village soon use their joint song to lift up themselves, and the community, as the war tears through their lives.

Told through letters and journals, THE CHILBURY LADIES' CHOIR moves seamlessly from budding romances to village intrigues to heartbreaking matters of life and death. As we come to know the struggles of the charismatic members of this unforgettable outfit-- a timid widow worried over her son at the front; the town beauty drawn to a rakish artist; her younger sister nursing an impossible crush and dabbling in politics she doesn't understand; a young Jewish refugee hiding secrets about her family, and a conniving midwife plotting to outrun her seedy past-- we come to see how the strength each finds in the choir's collective voice reverberates in her individual life. In turns funny, charming and heart-wrenching, this lovingly executed ensemble novel will charm and inspire, illuminating the true spirit of the women on the homefront, in a village of indomitable spirit, at the dawn of a most terrible conflict.
This book was sent to Compass Book Ratings for review by Crown Publishers
The Chilbury Ladies' Choir
by Jennifer Ryan
Overall Review:
The Chilbury Ladies' Choir is a spirited work of historical fiction. Set in South East England during 1940, the novel follows the villagers of Chilbury during the beginning of World War II. Author Jennifer Ryan perfectly captures the small-town feel, where everyone knows everyone AND their secrets. While Chilbury is a fictional village, Ryan draws from history to include actual events in the storyline -- including the Dunkirk evacuation. The Chilbury Ladies' Choir is an epistolary novel, or a story told through multiple journal entries and letters. The wide variety of characters and their heartfelt attempts to understand their changing world will have readers both laughing and crying. The novel is beautifully written and has a solid plot and pacing. The Chilbury Ladies' Choir is recommended for all historical fiction fans!
Review of an Advance Reader's Copy
Content Analysis:
Profanity/Language: 2 religious exclamations; 5 mild obscenities, 2 religious profanities; 2 derogatory names.
Violence/Gore: Several verbal threats, including a character thinking of hurting another; frequent secondhand reports of violence including bombing, tending to war injuries, violence by the Nazis, death during warfare, child abuse and physical violence; several brief incidents of violence include a character slapping another, a character whipping a child, a character being kicked and a character being hurt by a knife; a few non-detailed scenes of violent death include mention of an abortion that brutally killed the mother as well, people dying in bombings and victims of the Nazis; a few brief scenes of blood and gore include injuries from bombings.
Sex/Nudity: Multiple incidents of kissing; several non-sexual depictions of nudity, including a girl posing in the nude and the subsequent painting being displayed; several sexual references including rashes in the "nether regions", mention of "cleavage", and a child conceived out of wedlock; several implied incidents of sexual activity include affairs, STDs and an attempted rape; a few mature discussions regarding sex and abortion; a brief scene of sexual activity without explicit detail between adults.
Mature Subject Matter:
War, death of family members and friends, battle, miscarriage, child abuse, mention of abortion, blackmail and extortion, newborns switched at birth, physical abuse, homosexuality, covert spies, mention of STDs, post-traumatic stress disorder, Nazis and concentration camps, bullying, drinking and smoking.
Alcohol / Drug Use:
A few characters drink and smoke; a character is described as drunk.
Reviewed By Rachel