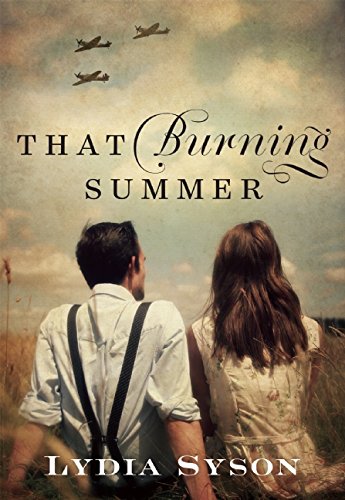 Publisher's Note:
It's July 1940 on the south coast of England. A plane crash-lands in the marsh, and sixteen-year-old Peggy finds its broken pilot—a young Polish airman named Henryk. Afraid and unwilling to return to the fight, Henryk needs a place to hide, and Peggy helps him find his way to a remote, abandoned church.

Meanwhile, Peggy's eleven-year-old brother Ernest is doing his best to try to understand the war happening around him. He's reading all the pamphlets—he knows all the rules, he knows exactly what to do in every situation. He's prepared, but not for Peggy's hidden pilot.

Told in alternating points of view, this is a beautifully written story about growing up in wartime and finding the difference between following the rules and following your heart.
This book was sent to Compass Book Ratings for review by Sky Pony Press
That Burning Summer
by Lydia Syson
Overall Review:
That Burning Summer begins as a pilot from Poland is crash-landing in Kent, England during World War II. He is seen by young Ernest as he is spiraling down, but after investigating the site, it appears that the pilot died in the crash. Later that evening Ernest's older sister, Peggy, stumbles onto the frightened and injured pilot, Henryk. She quickly finds a place nearby to hide him and the secrets begin.
This was a great story with a fresh perspective of the war--from those living in England. Having not been invaded by the Germans yet, but expecting it and dealing with air raids, those in England were living in constant fear. Author, Lydia Syson, includes an image at the beginning of the book of a leaflet sent to Great Britain residents in which they are told what to do if the invasion occurs. It was fascinating to read what advice was given and throughout the story many, especially Ernest, take the advice very seriously. This story addresses issues such as those who didn't support the war and how they and their families were persecuted, as well as soldiers who were labeled LMF (Lack of Moral Fibre) after abandoning their duties as soldiers. With a complicated plot, a budding love story, and plenty of suspense, this is a story that will appeal to both male and female audiences, especially those who are interested in war stories. Fans of Marianne Kaurin's Almost Autumn will likely also enjoy That Burning Summer.
Content Analysis:
Profanity/Language: 9 religious exclamations; 4 mild obscenities; 1 scatological word.
Violence/Gore: Many (34) brief incidents including character imagines shooting from an airplane; a sign says "looters may be killed"; character doesn't want to be burned to death in a plane crash; character wishing Hitler was dead; character says she will kill herself and her baby before Germans can get to them; character thinking about invasion happening; character worrying about getting buried alive; character receives letter suggesting she kill herself; character considers suicide; reference to characters getting killed during war; reference to traitors and deserters getting killed; secondhand reports of suicide; characters listen to war news on the radio; a dog fight is heard; secondhand report of character hitting head on propeller resulting in little injury; secondhand report of character getting cut by a saber from police; character mentions that she has to kill baby chicks by hand (when they don't hatch properly); reference to characters taken by German soldiers; reference to children missing limbs; character accidentally cuts finger; character injures ankle; hunting; birds fighting; characters getting killed.
Sex/Nudity: Several (13) brief incidents including kissing; dancing; cuddling; walking arm in arm; touching hand, arm, waist and leg; reference to rape (just said occurred, no further detail).
Mature Subject Matter:
War, murder, death, suicide.
Alcohol / Drug Use:
Character chewing tobacco; teenager thinking that some might think she's acting tipsy but she hadn't been drinking; character given medicine to stay awake and wishing for more; adult characters drinking; adult characters smoking cigarettes; child saying he was going to smoke and drink (but doesn't).
Reviewed By Jenny