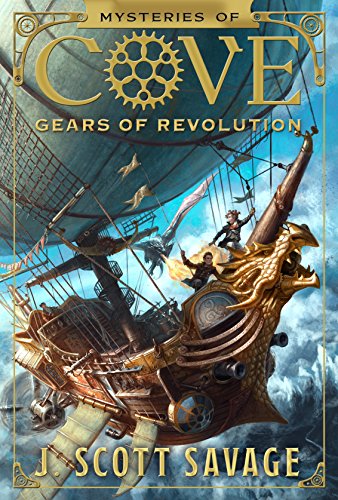 Publisher's Note:
After finding a compass and clues left by Kallista's father, Leo Babbage, Trenton and Kallista head west aboard their homemade mechanical dragon to search for the missing inventor. The two teenagers hope to find answers about their mountain city of Cove, but instead, they find only a blackened forest, ruined buildings, and a small underground city
Almost immediately, Trenton and Kallista are caught up in a civil war between a clan of scavengers called Whipjacks and the Order of the Beast, people who believe that dragons are immortal and divine.
Stranded in a new city, the two friends meet Plucky, a Whipjack girl with mechanical legs, and Ander, a young member of the Order who claims humans are able to communicate with dragons. Can they trust anyone, or have they unknowingly stepped into a trap?
And high above in the sky, the dragons are gathering . . .
This book was sent to Compass Book Ratings for review by Shadow Mountain
Mysteries of Cove: Gears of Revolution
by J. Scott Savage
Overall Review:
It's only been a couple weeks since Trenton and Kallista left their homes in Discovery to continue on their quest for Kallista's missing father. Following the clues he left for them, will they be successful or will their journey end with the destruction of everything they know?
J Scott Savage's Gears of Revolution is the perfect addition to the Mysteries of Cove Series. Trenton and Kallista return in a sequel packed with even more action than the first. Although eager partners while building their mechanical dragon and embarking on their quest, that fragile friendship and trust are put to the test when they come across another human settlement. The opposite of the home they left, intrigue and danger surround our duo causing them to wonder whom they can really trust--including each other.
Gears of Revolution is an exciting thriller that will leave the reader on the edge of their seats.
Review of an Advance Reader's Copy
Content Analysis:
Profanity/Language: None
Violence/Gore: Many battle scenes involving people and dragons; machine explodes; many references to violence caused by dragons; children shot out of sky; boy hits face on machine; many verbal threats; girl gets cut; references to girl being burned, scarring; children roughly arrested; girl scuffles with guards; man throws knife at boy; children joust; reference to historical fire destroying city; several references to hunting; girl hits head; a few references to the dangers of working with machines; man caught by dragon; several references to hanging; character crashes machine; characters nearly fall off airship; dragon attacks airship; boy dies suspiciously; references to man being tortured; man and children sentenced to death; boy skins knuckles; dragon kills many people; man pulls boy's arm roughly; boy pushes man; man grabs boy's arm.
Sex/Nudity: A few instances of boys and girls hugging, platonic.
Mature Subject Matter:
Death, poverty, supernatural, intrigue.
Alcohol / Drug Use:
None
Reviewed By Amberle