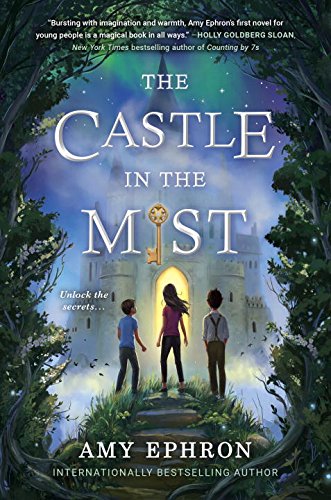 Publisher's Note:
In the tradition of Edward Eager and E.L. Konigsburg, a novel about the excitement—and the dangers—of wishing.

Tess and her brother, Max, are sent for the summer to their aunt's sleepy village in the English countryside, where excitement is as rare as a good wifi signal. So when Tess stumbles upon an old brass key that unlocks an ornately carved gate, attached to a strangely invisible wall, she jumps at the chance for adventure. And the world beyond the gate doesn't disappoint. She finds rose gardens, a maze made of hedges, and a boy named William who is just as lonely as she is.

But at William's castle, strange things begin to happen. Carnival games are paid for in wishes, dreams seem to come alive, and then there's William's eerie warning: Beware of the hawthorn trees. A warning that chills Tess to the bone.

In a magical, fantasy world that blurs the line between reality and imagination, readers are left to wonder exactly what they'd wish for if wishes could come true. Perfect for fans of Half Magic and The Secret Garden—and for anyone who's ever wondered if magic is real.
This book was sent to Compass Book Ratings for review by Philomel
The Castle in the Mist
by Amy Ephron
Overall Review:
Tess and Max are less than enthusiastic about spending the summer with their aunt in England's countryside. With no television, internet or cell phones they have no idea how they will pass the time; until the day Tess meets William.
The Castle in the Mist by Amy Ephron offers the reader a beautiful escape from the reality of the every day. Tess and Max are bright and adventurous, young siblings trying to make the best of the situation they have found themselves in. William and his home are a magical gem set in the midst of real life that provides a refuge for their imaginations. The Castle in the Mist is a quick, enchanting read that is sure to capture young readers and set them upon a quest to find some magic of their own.
Review of an Advance Reader Copy
Content Analysis:
Profanity/Language: None
Violence/Gore: Character upends board game; character runs into wall; character stumbles, falls; references to parent being very ill; reference to man dying in accident; girl worries about father in war zone; character nearly kicked by horse; character walks into wall; character falls off horse; character faints; character gets scraped up; girl slaps boy; children followed by monsters; reference to man and woman dying.
Sex/Nudity: Boy hugs girl in farewell.
Mature Subject Matter:
Supernatural, illness, family.
Alcohol / Drug Use:
Vague references to alcohol.
Reviewed By Amberle