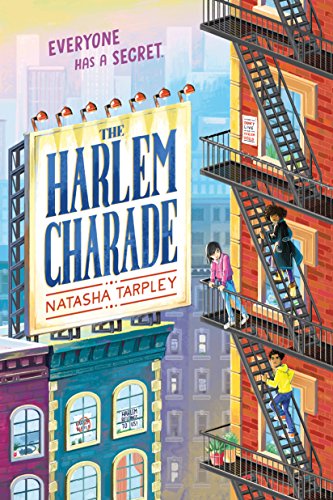 Publisher's Note:
WATCHER. SHADOW. FUGITIVE.

Harlem is home to all kinds of kids. Jin sees life passing her by from the window of her family's bodega. Alex wants to help the needy one shelter at a time, but can't tell anyone who she really is. Elvin's living on Harlem's cold, lonely streets, surviving on his own after his grandfather was mysteriously attacked.

When these three strangers join forces to find out what happened to Elvin's grandfather, their digging leads them to an enigmatic artist whose missing masterpieces are worth a fortune-one that might save the neighborhood from development by an ambitious politician who wants to turn it into Harlem World, a ludicrous historic theme park. But if they don't find the paintings soon, nothing in their beloved
neighborhood will ever be the same . . .

In this remarkable tale of daring and danger, debut novelist Natasha Tarpley explores the way a community defines itself, the power of art to show truth, and what it really means to be home.
This book was sent to Compass Book Ratings for review by Scholastic
The Harlem Charade
by Natasha Tarpley
Overall Review:
With a diverse group of characters and themes such as social justice, the importance of art, history and learning from the past, and being true to who you are, this debut novel, Harlem Charade, by author Natasha Tarpley is one that is sure to get noticed by those that give the awards. Harlem Charade is one part history lesson of Harlem and one part mystery and adventure, based loosely on some historical events of the borough of Harlem, NY. As Jin, Alex and Elvin become unlikely friends, they also become detectives as they try to help one another out. Elvin finds himself alone in the big city as his grandfather recovers from an assault. Alex is trying to break free from the stereotypes that come with being wealthy and prove her own worth. Jin is trying to discover who she is and what she's capable of as she comes out of the shadow of her protective grandmother.
As they look to the each other for help with their problems, they are also trying to piece together the mystery. What does a long-lost but now found painting, a disappeared artist, a midnight assault, crooked politicians, and the history of the Harlem Renaissance have to do with one another? All of those things come into play, which makes The Harlem Charade an exciting and intriguing adventure/mystery that will have you quickly turning pages.
Review of an Advance Reader's Copy
Content Analysis:
Profanity/Language: None
Violence/Gore: Secondhand account of man being hit on the head and knocked unconscious; Secondhand account of boy being pushed around in a threatening way; Man grabs boy as he is trying to escape and in order to get free the boy thrashes around and kicks man in the face; Secondhand account of woman catching a burglar in the act and the burglar pushes her down causing her death; Kids are grabbed and tied up to a pole; Man threatens to burn down building 3 kids are tied up in; Man grabs girl by coat collar and gives him a shake; Man squeezes arm of girl so tight it makes her cry; Man grabs another man by the neck and wrestles with him; Man pulls out gun and threatens others.
Sex/Nudity: None
Mature Subject Matter:
Divorce, sickness(cancer).
Alcohol / Drug Use:
None
Reviewed By Sally