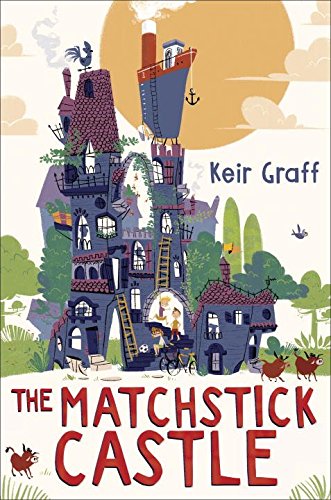 Publisher's Note:
A wild and whimsical adventure story, perfect for fans of Escape from Mr. Lemoncello's Library

Brian can think of a few places he'd rather spend his summer than with his aunt and uncle in Boring, Illinois. Jail, for example. Or an earplug factory. Anything would be better than doing summer school on a computer while his scientist dad is stationed at the South Pole.

Boring lives up to its name until Brian and his cousin Nora have a fight, get lost, and discover a huge, wooden house in the forest. With balconies, turrets, and windows seemingly stuck on at random, it looks ready to fall over in the next stiff breeze. To the madcap, eccentric family that lives inside, it's not just a home—it's a castle.

Suddenly, summer gets a lot more exciting. With their new friends, Brian and Nora tangle with giant wasps, sharp-tusked wild boars, and a crazed bureaucrat intent on bringing the dangerously dilapidated old house down with a wrecking ball.

This funny, fantastical story will resonate with any reader who's ever wished a little adventure would find them.
This book was sent to Compass Book Ratings for review by Putnam
The Matchstick Castle
by Keir Graff
Overall Review:
In The Matchstick Castle, 11-year-old Brian thinks his summer couldn't get any worse than having to spend it in a town actually called Boring. But on top of not being able to hang out with his friends and missing the All-Star soccer tournament, his uncle is making him be a guinea pig for his on-line summer school program. He soon realizes it couldn't be much worse as he sits in front of the computer every week day, doing school work. So, when Brian happens upon adventure and mystery, he jumps at the chance to see it through and even drags his cousin, Nora, along in the hopes to enliven her life as well.
This exciting adventure leads them to the Matchstick Castle, which belongs to a quirky family of adventurers and explorers. Brian and Nora's adventures soon take them on a quest to help save the castle, search for hidden treasure, and along the way, a little self- discovery as they have to overcome fears, rely on each other, and problem solve to find solutions and get out of some predicaments.
Reminiscent of novels like Pippy Longstocking or Dr. Dolittle, author Keir Graff creates a delightful cast of quirky characters as well as an exciting, creative adventure. This novel is sure to delight anyone who finds amusement in life's oddities and likes to root for the underdog. The Matchstick Castle is a great reminder that adventures can be found at the most unexpected times and in the most unexpected places--even in a town named Boring.
Review of an Advance Reader's Copy
Content Analysis:
Profanity/Language: 1 religious exclamation.
Violence/Gore: Man fires off a gun into the air as a warning shot.
Sex/Nudity: None
Mature Subject Matter:
Mention of death of a family member.
Alcohol / Drug Use:
None
Reviewed By Sally