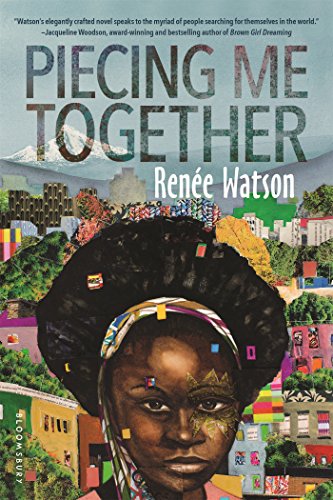 Publisher's Note:
A timely and powerful story about a teen girl striving for success in a world that too often feels like it wants to break her.
Jade believes she must get out of her poor neighborhood if she's ever going to succeed. Her mother tells her to take advantage of every opportunity that comes her way. And she has. She accepted a scholarship to a mostly-white private school and even Saturday morning test prep opportunities. But some opportunities feel more demeaning than helpful. Like an invitation to join Women to Women, a mentorship program for "at-risk" girls. Except really, it's for black girls. From "bad" neighborhoods. And just because Maxine, her college-graduate mentor, is black doesn't mean she understands Jade. And maybe there are some things Jade could show these successful women about the real world and finding ways to make a real difference.
This book was sent to Compass Book Ratings for review by Bloomsbury Children's Books
Piecing Me Together
by Renée Watson
Overall Review:
With purpose and creativity, author Renée Watson, delivers a stellar YA contemporary novel just in time for Black History Month.
Narrated by female protagonist Jade, Piecing Me Together, collages exploration and discovery from the view point of a modern black teen. She is learning and growing, acquiring and bequeathing, and all together dealing with relevant, even controversial issues plaguing our society today.
Jade is smart and creative, and in the beginning of the story, shy about speaking up for herself. Throughout the novel, readers get to see how she learns to profit from opportunities to become an advocate for not only herself, but for people and topics she is passionate about giving back to.
With rich thickness pouring out like honey, the author brilliantly illustrates black American culture and history. Incorporating multiple characters and their viewpoints, the story gives readers a diverse and well-rounded novel that doesn't cater to any one opinion.
The portrayal of Jade's outings within Portland, Oregon and the inclusion of actual places and events within the area, add to the story's visual atmosphere.
Talking about visual, just look at that cover! It's so lovely and dynamic, and once you start reading you'll appreciate even more.
Although this novel is labeled for YA, I believe it would be an excellent read for middle school-aged adolescents, because of its reflective quality.
A similar novel with a male point of view, that you may want to check out is Riding Chance by Christine Kendall, and younger readers might enjoy Brown Girl Dreaming by Jacqueline Woodson.
Review of an Advance Uncorrected Proof
Content Analysis:
Profanity/Language: 7 religious exclamations; 1 anatomical term.
Violence/Gore: Report of shooting resulting in injury and/or death; comedic comment involving violence; remark about seeing violence on the news; character thinks about something violent; report of teen being assaulted by police, injuries mentioned; extended scene (about ½ page) discussion about police brutality/ police brutality against black people; a few mentions of police brutality.
Sex/Nudity: Mention of mother being a teen parent; parent has a live-in girlfriend/boyfriend; male character makes a comment that female character is attractive; a few mentions of romantic drama; extended scene (about 3 pages) discussion about relationships/dating, sex is mentioned; extended scene (about 1 page) female overhears males rating attractiveness of females; remark about female's shirt being thin enough to see her bare breasts; memory of a kiss; extended scene (about 1 page) discussion of about dating relationship; extended scene (about 2 pages) sexual related issues discussed; sexual reference joke; extended scene (about 1 page) character teases another character about liking another person; comment about teen dating; character sees a couple holding hands.
Mature Subject Matter:
Race, prejudice, police brutality.
Alcohol / Drug Use:
Teen encounters a drunk individual; mention of individual using drugs; adults drink wine at dinner; cocktail party; mention of a bar.
Reviewed By MaryLou