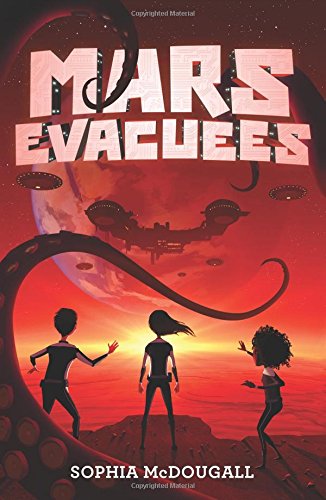 Publisher's Note:
From bestselling UK author Sophia McDougall comes one fresh and funny adventure-filled tween debut about a group of kids evacuated to Mars! Perfect for fans of Artemis Fowl, this laugh-out-loud series is packed with nonstop fun.
When Earth comes under attack by aliens, hilarious heroine Alice Dare and a select group of kids are sent to Mars. But things get very strange when the adults disappear into thin air, the kids face down an alien named Thsaaa, and Alice and her friends must save the galaxy!
For when plucky twelve-year-old Alice Dare learns she's being taken out of the Muckling Abbott School for Girls and sent to another planet, no one knows what to expect. This is one wild ride that will have kids chuckling the whole way through.
Mars Evacuees
by Sophia McDougall
Overall Review:
Narrated by an intelligent and outgoing 12-year-old girl, the main characters are unique and interesting. The author does a good job of introducing a lot of characters who keep the story moving. The action took a while to get moving, but once it did, it was engaging. The author's laid back writing style makes this book accessible to young readers who will have no problem following the story line.
When the preteen main characters are faced with immense challenges, they step up and work together. Science is brought to life in imaginative ways and many times, it saved the day. The gender and procreation of the aliens is also a subject introduced to readers. Nevertheless, the author has creatively handled the issue so that it isn't embarrassing or inappropriate. It was fun to see the two main female characters, who were both strong-willed and gifted in their own ways, able to think on their feet and do their best to do the right thing. Working for the good of all, they endure through hard times and never give up. Given that they are on Mars for most of the story, and facing the hardest times of their lives, the main characters are pretty amazing kids.
Content Analysis:
Profanity/Language: 25 religious exclamations; 17 mild obscenities; 1 derogatory name.
Violence/Gore: Mention of a mother in the military who kills aliens; military battles with intent to kill and mention of killing, no gory details; young boy wanders off and is lost for a time; adult man lost both legs & has prosthetics, mentioned several times; 12-year-old girl punched in mouth by 12-year-old boy, bloody lip; ship crashes, some aliens dead, not gory but mention of dead bodies; all adults disappear; gangs develop, violence, some blood, hair pulled out, kids locked up or locked out; robot zaps kids and others to get obedience, for defense, sometimes causing severe reaction; alien bugs eat living things; a captive tied-up; mention of a buildings destroyed by enemy attack, 2 dead bodies, no details; mention of a mother who had died previously; adults held captive, no permanent physical harm done; ship attacked, some hurt, mention of blood but not gory;
Sex/Nudity: Teen boy & girl take over room, implication that they were sexual; gender & procreation of aliens, clinical & non-sexual; kid's clothes were wet so they took them off, remained in boy shorts & tanks, non-sexual, non-descriptive.
Mature Subject Matter:
War, military, guns, alien weapons, prisoners of war, death of people due to war, death of parent, children sent away, gender issues, procreation of aliens, prosthetic legs, teen thugs, sexually-active teens.
Alcohol / Drug Use:
Preteen has her father's flask with alcohol, shares with other preteens.
Reviewed By Beth