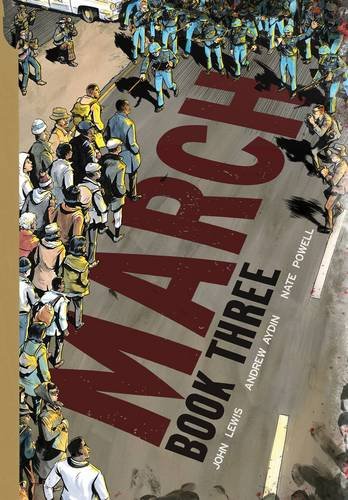 Publisher's Note:
2016 National Book Award Winner for Young People's Literature

"One of the Best Books of 2016" - Publishers Weekly

Welcome to the stunning conclusion of the award-winning and best-selling MARCH trilogy. Congressman John Lewis, an American icon and one ofthe key figures of the civil rights movement, joins co-writer Andrew Aydin and artist Nate Powell to bring the lessons of history to vivid life for a new generation, urgently relevant for today's world.

By the fall of 1963, the Civil Rights Movement has penetrated deep into the American consciousness, and as chairman of the Student Nonviolent Coordinating Committee, John Lewis is guiding the tip of the spear. Through relentless direct action, SNCC continues to force the nation to confront its own blatant injustice, but for every step forward, the danger grows more intense: Jim Crow strikes back through legal tricks, intimidation, violence, and death. The only hope for lasting change is to give voice to the millions of Americans silenced by voter suppression: "One Man, One Vote."

To carry out their nonviolent revolution, Lewis and an army of young activists launch a series of innovative campaigns, including the Freedom Vote, Mississippi Freedom Summer, and an all-out battle for the soul of the Democratic Party waged live on national television.
With these new struggles come new allies, new opponents, and an unpredictable new president who might be both at once. But fractures within the movement are deepening ... even as 25-year-old John Lewis prepares to risk everything in a historic showdown high above the Alabama river, in a town called Selma.
March: Book Three
by John Lewis
Overall Review:
John Lewis has been called an American hero and treasure, and the March series leaves readers in no doubt about why. Book Three, focusing on the Civil Rights Movement efforts to secure voting rights for all Americans, tells a fascinating story that offers first-hand background and insider information about these events that most accounts don't reveal.
Lewis tells the story in a straightforward way, with the help of author Andrew Aydin and artist Nate Powell. There are no punches held, sometimes quite literally, but the story is also sensitive to its audience and highly educational without being manipulative. Violence, hatred, and abuse were part of the movement, and Lewis, at the forefront, did not escape it or even try to. We see him walk into terrifying situations time and time again, and learn that there are sometimes more compelling reasons to go toward what we fear than to run from it.
Powell's artwork is perfect for this story--not too graphic, but visually relating the facts in a way that helps readers see and feel the horrors of racism in the 1960s South. Depicted all in black and white, the metaphor is not lost on the reader, who understands that this issue is anything but.
While Book Three stands alone quite effectively, there are some facts, groups, and events referred to that may make it slightly challenging for those without a solid background in Civil Rights Movement events and the people involved. The reviewer recommends beginning with Book One in order to understand the whole picture.
Young people who read this story will be affected in all the right ways--learning why we must continue to fight injustice, understanding the principle of non-violent resistance, and recognizing the efforts of those who came before who made our world a better place. They will want to carry on these efforts, and will learn how to do so with dignity and compassion. March is a must-read for today's youth--well deserving of the wide recognition it's receiving--and the format makes it accessible to all.
Content Analysis:
Profanity/Language: 2 religious exclamations; 3 mild obscenities; 5 religious profanities; 17 derogatory names*; 2 anatomical terms; 1 f-word derivative.
*Most of the derogatory names are racial slurs--there are also 2 instances of name calling that do not include actual derogatory names but are clearly intended to express hatred.
Violence/Gore: An explosion occurs which causes several deaths (no details--a shoe is found); a child is shot and killed--seen lying on the ground with open eyes and some blood around him; a person is shot and killed--seen lying on the ground with no gore; reports of using cattle prods on people; groups of people are shoved, beaten, and kicked by police with little graphic detail (3 times); 3 people are violently beaten by police in a brief scene; 3 people are known to have been killed; a neighborhood is harassed by people throwing bottles into homes; a person is reported to have been shot in the head (non-fatally); dead bodies are discovered with no gore; a report is made of beatings, shootings, and bombings; during the search for a missing person, a boot is found sticking out of the ground; report of multiple shootings with no fatalities mentioned; screams and sounds are overheard while a person is being beaten--no graphic detail; a person describes being beaten in detail, including having her dress repeatedly pulled up over her head; several people are dragged across the ground by police (no injuries); people are attacked and punched in the face (3 times); people are violently pushed and shoved ( times); people are struck with billy clubs by police (3 times); gunshots are heard and a wounded person is left lying in the street; an assassination is reported; in an extended scene (6 pages) a crowd of people are beaten with sticks, pushed, punched, and shot at with tear gas; a severely injured person is seen lying on the ground in a pool of blood; a severely injured person is covered in blood, seen walking around and speaking to others; several people are beaten with sticks and left lying on the ground; a person is reported to have been shot and killed--a crashed car is seen with a person's leg hanging out of it.
Sex/Nudity: A group of people is seen at a party dancing--one woman is sitting on a man's lap; sex is mentioned; the term "making a move" is used; a vague, derogatory sexual joke is made toward women; fornication is referred to; animal mating is referred to.
Mature Subject Matter:
Racism, hate crime, civil disobedience, death.
Alcohol / Drug Use:
Social drinking, adults.
Reviewed By Leslie