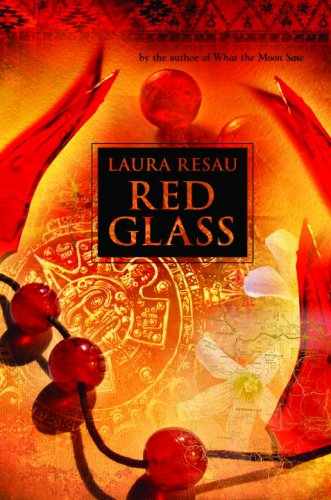 Publisher's Note:
ONE NIGHT SOPHIE and her parents are called to a hospital where Pedro, 6-year-old Mexican boy, is recovering from dehydration. Crossing the border into Arizona with a group of Mexicans and a coyote, or guide, Pedro and his parents faced such harsh conditions that the boy is the only survivor. Pedro comes to live with Sophie, her parents, and Sophie's Aunt Dika, a refugee of the war in Bosnia. Sophie loves Pedro - her Principito, or Little Prince. But after a year, Pedro's surviving family in Mexico makes contact, and Sophie, Dika, Dika's new boyfriend, and his son must travel with Pedro to his hometown so that he can make a heartwrenching decision.
This book was sent to Compass Book Ratings for review by Delacorte Books
Red Glass
by Laura Resau
Overall Review:
Sophie is afraid of everything. Germs, natural disasters, violence, and awkward social situations all strike terror into her heart. At school, she feels like an amoeba: Solitary and shapeless, unable to connect to any of the other kids her age. Until her family becomes involved with a frightened young boy who sets in motion a chain of events that will change Sophie's life forever. In "Red Glass," Laura Resau weaves a story that is quietly captivating; I was completely drawn in by Sophie and her family and friends. Many of the issues that Resau deals with—war, death, immigration, poverty, violence—are difficult ones, but she endows her characters with a strength and grace that is both endearing and inspiring. "Red Glass" reminded me to notice and appreciate the deep beauty in my own life—and to always have the courage to love.
Content Analysis:
Profanity/Language: There are a few religious exclamations in Spanish. There is no profanity in English.
Violence/Gore: A girl is afraid of calamities and imagines several terrible things that could harm her or her family. Several characters have lived through wars in various countries, and recall their own experiences (including a house bombing, beatings, other tortures, and the deaths of loved ones at the hands of soldiers or insurgents). These memories are poignant but not graphic. A young boy's family dies while crossing the desert in an attempt to emigrate from Mexico. A young boy falls down a mountain and is hurt, but not killed. A man says that there is too much violence in his hometown. A teenage boy is beaten by a gang of teenage boys. A girl is warned several times that it is not safe for her to travel through a city alone. A teenage girl and teenage boy are threatened by a gang (nothing happens). A group of teenage boys is involved in a car crash and are injured (two die); as their bodies are brought to the hospital, they are described as bleeding profusely. A teenage boy threatens to kill another teenage boy (nothing happens).
Sex/Nudity: Several characters flirt, kiss, and hold hands (about 15 brief instances and 3 extended scenes of flirtation, including kissing). A mother takes off her shirt to bandage her young son's wounds and her son is embarrassed to see her without her shirt. A hospital room has depictions of breasts and literature that encourages breast-feeding of babies. It is implied that two different women were pregnant out of wedlock. Teenagers kiss and caress each others' arms. A teenage boy is teased about having "dirty magazines" (he doesn't). A teenage boy dreams about a nude girl and says that he wants to touch her hips.
Mature Subject Matter:
Illegal immigration, death, war, gang violence, fear
Alcohol / Drug Use:
There are several (about 5) references to characters (including minors) consuming beer and champagne. There are a few references to drugs and/or drug dealing (including a comment about a girl's father being arrested for "dealing acid"). A teenage boy is teased about having drugs in a box he carries (he doesn't).
Reviewed By CindyB