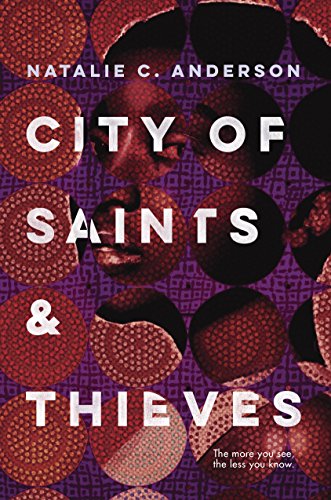 Publisher's Note:
The Girl with the Dragon Tattoo meets Gone Girl in this enthralling murder mystery set in Kenya.

In the shadows of Sangui City, there lives a girl who doesn't exist. After fleeing the Congo as refugees, Tina and her mother arrived in Kenya looking for the chance to build a new life and home. Her mother quickly found work as a maid for a prominent family, headed by Roland Greyhill, one of the city's most respected business leaders. But Tina soon learns that the Greyhill fortune was made from a life of corruption and crime. So when her mother is found shot to death in Mr. Greyhill's personal study, she knows exactly who's behind it.

With revenge always on her mind, Tina spends the next four years surviving on the streets alone, working as a master thief for the Goondas, Sangui City's local gang. It's a job for the Goondas that finally brings Tina back to the Greyhill estate, giving her the chance for vengeance she's been waiting for. But as soon as she steps inside the lavish home, she's overtaken by the pain of old wounds and the pull of past friendships, setting into motion a dangerous cascade of events that could, at any moment, cost Tina her life. But finally uncovering the incredible truth about who killed her mother—and why—keeps her holding on in this fast-paced nail-biting thriller!
This book was sent to Compass Book Ratings for review by Putnam
City of Saints & Thieves
by Natalie C. Anderson
Overall Review:
Based on real events, this fascinating murder mystery gives a view into the world of refugees fleeing from the Congo to Kenya. With her detailed sensory language, author Natalie C. Anderson helps the reader vividly imagine the struggle some may have experienced in what seems like an impossible life. The reality that many people in the Congo may have dealt with similar situations as in this story will leave you in awe that there are survivors. Main character, Tina a.k.a Tiny Girl, is such a strong, independent young woman who will inspire you to do bigger things with your life. While she often times feels alone in the world, she finds a few fiercely loyal friends who put their own lives at risk to support and help her.
Anderson manages to educate us of the atrocities that occur in the Congo by way of an engrossing story. As one would expect from a good mystery, you'll find yourself surprised from time to time among the action and intrigue. She occasionally throws in some of the native Swahili language, further immersing you into the story, but she also provides a glossary, which is nice to have handy. While this story may seem familiar with the its strong female protagonist, the setting and therefore the life experiences will bring a newness that will grab and keep your attention from beginning to end.
Review of an Advance Reader's Copy
Content Analysis:
Profanity/Language: 14 religious exclamations; 17 mild obscenities; 7 derogatory names; 12 scatological words; 6 anatomical terms; 2 offensive gestures.
Violence/Gore: Many (66) brief incidents including characters wants to hurt another or could get hurt by another; jokes about hurting someone; character's chest feels like it is being ripped apart; character has a gun at neck; characters taught to fight and steal; verbal threats; story of a character getting tortured and killed; secondhand report of a character scratching another's face; secondhand report of a threat; dead body found floating in water; secondhand reports of murder; blood found on couch; reference to torture; reference to bloody gang raids; story of monster that eats children; character has burns and slashes on body; reference to village attacks resulting in many injuries and deaths; reference to character getting in fights; secondhand report of character's fingers getting broken and store inventory damaged; references to war including death; character watches video of a murder; reference to kidnapping; reference to children receiving spankings; characters have cuts on arms from injuries; story about a dog fight; reference to character's house getting intentionally set on fire; reference to characters having been injured; character gets cut on hand; character slapped; character hits another in the head to knock him out; shooting and fighting; character knocked unconscious and severely injured; two incidents of murder.
Sex/Nudity: Many (35) brief incidents including character holds onto another's waist while on motorcycle; secondhand report of kissing; touching arm; hugging; kissing; story of woman not willing to have sex; several incidents of innuendo; prostitute seen in street; references to character being gay; dirty hand gesture; cleavage seen; male character frisks female character to check for weapons and she jokes that it is sexual; reference to male character being aroused; references to prostitutes; reference to survival sex; character was sold as a prostitute; reference to characters who want to have sex; reference to whores and character called a whore; character asks another if she is pregnant; character insinuates that he will rape a girl; two incidents of implied rape and two incidents of reported rape; secondhand report of female characters becoming pregnant from raped; character has a tattoo of a naked lady; male character pushes crotch against female character's leg; character got groped; male character removes female (prisoner) character's pants so she can urinate, stares at her crotch then attempts to rape her (~ 2 paragraphs with very little description and he is stopped before he gets very far in his efforts).
Mature Subject Matter:
War, murder, prostitution, references to slavery and terrorists, reports of attempted rape and rape, theft.
Alcohol / Drug Use:
Drunks in the street; characters getting high; secondhand report of smoking; reference to selling drugs; character in hospital receiving needle injection; teenager drinking wine; character asks minor if she'd been drinking; poison given to characters, leaving them unconscious; character drugged.
Reviewed By Jenny