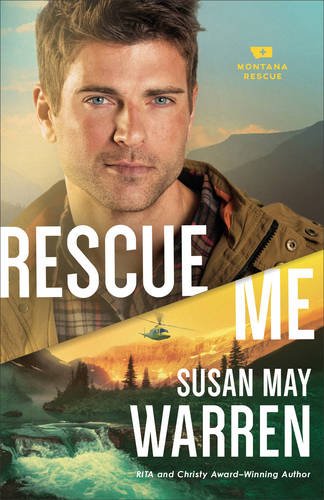 Publisher's Note:
When Deputy Sam Brooks commits to something, nothing can sway him--not just on the job as liaison between the Mercy Falls sheriff's department and PEAK Rescue, but in his private life. He's the one who stuck around to take care of his mother after his father's accidental death. And he's the one--perhaps the only one--who believes Sierra Rose is the perfect girl for him. Safe, practical, and organized, she's nothing like her hippie, impulsive, bleeding heart sister, Willow.

Willow, however, has been in love with Sam Brooks for as long as she can remember. But she wants her sister to have a happy ending. Besides, Willow has other things to focus on--namely, nabbing the job as youth pastor for her small-town church. Best thing for her to do is to purge Sam from her heart.

Neither can predict the events that will bring them together in a fight for their lives in the forbidding wilderness of Glacier National Park. Stranded, injured, and with the winter weather closing in, Sam and Willow will have to work together to save a crew of terrified teenagers. As they fight to survive, they might just discover a new hope for love.
This book was sent to Compass Book Ratings for review by Revell
Rescue Me
by Susan May Warren
Overall Review:
Susan May Warren continues the Montana Rescue series with Rescue Me. The first book is recommended to follow the story more clearly, but enough rehash is provided that readers could get by without it. This book differs from the first, because much of the story focuses on characters in situations in which rescue teams are deployed.
The plot feels a little bogged down by the emotional turmoil of the characters. However, the interesting thing about that is this same turmoil is used to convey a message of forgiveness and relying on the Lord. Many characters are involved in complicated relationships that could be viewed as love triangles.
This story ends on a rather pointed introduction to the plot of the third book. Be prepared for some survival action, intense wildlife encounters and some romance. Plenty of stuff keeps readers jumping from one subplot to the next without any certainty about if or when the issues will resolve. Good thing Warren has another book in the works!
Review of an Advance Reader Copy
Content Analysis:
Profanity/Language: None
Violence/Gore: Several intense scenes involving wild animal encounters, some involving injury and blood; a few fist fights break out and blood is drawn; characters involved in an automobile accident suffer multiple injuries and some mention blood.
Sex/Nudity: Non-married characters kiss and embrace; report that a man got his girlfriend pregnant; report of a teen sleeping around; a teen is falsely accused of "feeling up" a girl; a woman lifts the back of her shirt so a man can inspect an injury.
Mature Subject Matter:
Terminal illness, death of a parent, divorce.
Alcohol / Drug Use:
Mention of teenagers and a possibility of drug use; a teen is suspected of being drunk or high; a report that a teenager deliberately got a girl high on marijuana without her knowledge.
Reviewed By Susan