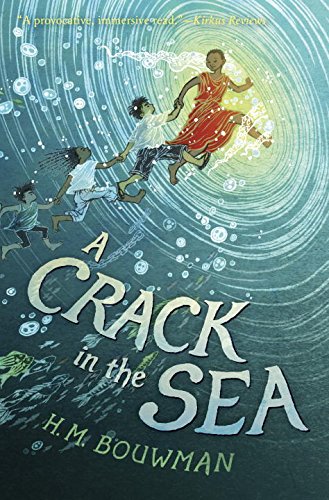 Publisher's Note:
An enchanting historical fantasy adventure perfect for fans of Thanhha Lai's Newbery Honor-winning Inside Out and Back Again

No one comes to the Second World on purpose. The doorway between worlds opens only when least expected. The Raft King is desperate to change that by finding the doorway that will finally take him and the people of Raftworld back home. To do it, he needs Pip, a young boy with an incredible gift—he can speak to fish; and the Raft King is not above kidnapping to get what he wants. Pip's sister Kinchen, though, is determined to rescue her brother and foil the Raft King's plans.

This is but the first of three extraordinary stories that collide on the high seas of the Second World. The second story takes us back to the beginning: Venus and Swimmer are twins captured aboard a slave ship bound for Jamaica in 1781. They save themselves and others from a life of enslavement with a risky, magical plan—one that leads them from the shark-infested waters of the first world to the second. Pip and Kinchen will hear all about them before their own story is said and done. So will Thanh and his sister Sang, who we meet in 1978 on a small boat as they try to escape post-war Vietnam. But after a storm and a pirate attack, they're not sure they'll ever see shore again. What brings these three sets of siblings together on an adventure of a lifetime is a little magic, helpful sea monsters and that very special portal, A Crack in the Sea.
This book was sent to Compass Book Ratings for review by Putnam
A Crack in the Sea
by H. M. Bouwman
Overall Review:
Three sets of siblings. Three different worlds. Three as well as a couple fragmented tales. All woven together in a wonderfully imaginative novel, A Crack in the Sea by H.M. Bowman. This novel is part historical fiction and part fantasy, as it weaves together historical facts like the Zong Slaving Ship, Amelia Earhart, and the Vietnam War with an almost science fiction-like account of another parallel world and sea monsters. Along with all of that, there are magical gifts--like talking to fish and walking on the sea floor--that help not only those who possess them, but those around them as well. With these gifts, as well as help from some sea monsters, this novel ends in an unusual and unexpected way that brings the different worlds together for some closure.
A Crack in the Sea is a novel that takes very serious subjects such as the slave trade and war and sets them into a tale that tries to make sense of them in a way that younger readers could work through. That being said, it is a very involved tale that jumps around to and from different perspectives, so it might be a difficult read for some. H.M. Bowman is a true story teller, just like the ones that play a vital role in the story she created. This novel is a finely woven tale that will appeal to all ages and help them to think through tragedies that this world has had to face.
Review of an Advance Reading Copy
Content Analysis:
Profanity/Language: One religious exclamation.
Violence/Gore: Mention of three characters having been captured and forced on to a slave ship; account of character being thrown overboard and being eaten by sharks; account of many people being thrown overboard because they were supposedly sick; people attempting to escape are shot at by guards; secondhand account of man being taken prisoner and dying in the prison camp; character cuts herself to disguise herself; 4 page account of pirates taking over a boat, looting it, causing damage to it and stabbing one of the characters.
Sex/Nudity: Reference to girl being of age to be noticed by sailors; girl is told to cut her hair and pretend she is a boy to avoid being noticed by bad men (vague allusion only).
Mature Subject Matter:
War, slavery, death.
Alcohol / Drug Use:
Two children are given a powder in their drink that causes them to go into a deep sleep.
Reviewed By Sally