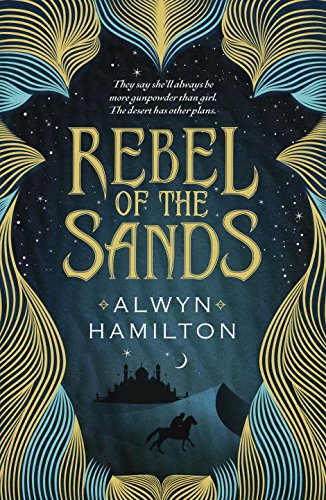 Publisher's Note:
"You will cheer for Amani the whole way as she escapes the bonds of oppression and finds her own power, and you will mark your calendar for the sequel."—Rae Carson, bestselling author of the Fire & Thorns trilogy

Mortals rule the desert nation of Miraji, but mythical beasts still roam the wild and remote areas, and rumor has it that somewhere, djinn still perform their magic. For humans, it's an unforgiving place, especially if you're poor, orphaned, or female. Amani Al'Hiza is all three. She's a gifted gunslinger with perfect aim, but she can't shoot her way out of Dustwalk, the back-country town where she's destined to wind up wed or dead.
Rebel of the Sands
by Alwyn Hamilton
Overall Review:
This book transported me back to the Arabian nights--sort of. Take a story setting much like Arabian nights, deserts, dry and parched land, camel trains--now combine it with characters that are half-magical being half-human. Then mix in a little rebellion from a prince and a whole lot of action and you have the makings of a good read. Rebel of the Sands was just that.
From the opening pages, I fell in love with Amani. She is rough and edgy. Too girl in a land where girls aren't valued and too courageous to sit back and be a wallflower. The reader meets her in a pistol pit, dressed as a boy, and trying to best men in a shoot-out as her only means out of her home city. Her background is heart-breaking, but she is a great girl power example.
While the main character of this tale is a girl, there is definitely enough action to keep even the pickiest of guys enthralled. Mythical beasts rising from the sand, sword battles, gun battles, explosions and the like will keep every reader on the edge of their seat.
The vocabulary is pretty straightforward and easy for a fantasy novel, so reading level is appropriate for the younger age set. Apart from the violence, I think even the under twelve crowd could comprehend this tale. An overall good read and a strong start to a series I think is well worth the time to read.
Content Analysis:
Profanity/Language: 4 religious exclamations; 49 mild obscenities; 3 religious profanities; 9 derogatory names; 1 scatological word; 2 anatomical terms.
Violence/Gore: 8 page battle between beings that control sand and heat with injuries and burns as well as death of soldiers; character throws a bottle at another and completely misses; report of girls being stoned to death; numerous cuts, scrapes, bruises and minor injuries; several instances of guns being pointed at heads and necks; several verbal threats of physical harm or death; report of child abuse (child being beaten); report of people being beat to death (twice); report of death by hanging (twice); character drugs another; magical being destroys factories; factory explosions with death; magical being turns another to ash and destroys entire city with no survivors; soldiers practice using bayonets on practice dummies; numerous broken bones, bloody noises and injuries due to fight scenes with blood depicted from wounds; multiple gunshot and sword wounds resulting in injury and death.
Sex/Nudity: Kissing (three times); holding hands; male has bare chest (twice); report of hand up a teenage girl's shirt; male threatens rape; caresses face; hands on waist (twice); talk of how a baby was conceived; report of soldiers raping women or using as prostitutes.
Mature Subject Matter:
Religious conflicts, death of children and family members, war, rape, gambling, abandonment, physical child abuse, robbery, murder, underage drinking, prostitution.
Alcohol / Drug Use:
Drinking of beer and hard liquor by teens and adults; use of drugged drink to incapacitate someone.
Reviewed By Beckie