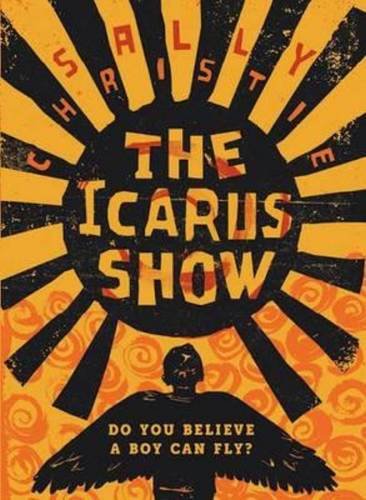 Publisher's Note:
Alex has worked out a foolproof plan to avoid being picked on. Don't React. It's so simple, it just might work.

David, a boy in his class, does react. He's branded a weirdo, becomes an outcast, and is given a terrible nickname. Alex is determined not to suffer the same fate.

But one day, Alex gets a note in his bag that forces him out of his safe little world.

Who sent the note? And is what it promises true--will a boy really fly?

The Icarus Show is an unforgettable story about friendship, loneliness, and a strange kind of genius.
This book was sent to Compass Book Ratings for review by David Fickling Press
The Icarus Show
by Sally Christie
Overall Review:
In a thoughtful, middle grade, contemporary novel about loneliness, isolation, and the toll bullying can take, author Sally Christie carefully treads the line on a mature topic that is sadly becoming more common place in young people's lives.
UK-based, this novel is told through the perspective of seventh grader Alex Meadows. Through his narrative readers become aware of how much energy it takes for the protagonist to be a non-reactor. Flying under the radar and slyly fitting in are pretty much his greatest achievement thus far, but that all comes into a precarious position when a new friendship may require action on his part.
One word that I feel sums this novel up is cautious; from the protagonist, to the pacing of the story, to the subject being hinted at, it was all introspectively discreet. The author really accentuated Alex's naiveté, and the gravity of the situation is delayed, making for a slower tempo, but this also reminds readers that the characters are young and not as precocious or jaded as some youth.
A relationship that I really enjoyed was that of Alex and his elderly neighbor, Maisie. The comradery between them, despite their age differences, was tenderly sweet and at times funny. The matters that came up because of Maisie's age (death of a loved one, becoming dependent/needing care) was an interesting aspect to include in a middle grade novel and one of relevance for readers who may live in a multi-generation home.
Though the ending is energetic, readers who are looking for a more provocative, emotionally-charged novel may be disappointed with this book's more methodical pace and lack of candidness.
Content Analysis:
Profanity/Language: 2 religious exclamations.
Violence/Gore: Character recounts being tripped; character is described as a bully; bully threatens a character; bully makes an angry exclamation; character smacks another character's hand in agitation; extended scene (about 2 pages) characters beat up another character, mention of injuries and blood; character crashes their car; extended scene (about 2 pages) character tries to physically stop another character from hurting themselves (suicide), characters are middle school aged.
Sex/Nudity: Children believe two adults like each other; the word quickie is used as a sexual reference by middle schooler.
Mature Subject Matter:
Suicide/mental illness, bullying, loss/death, aging/becoming dependent.
Alcohol / Drug Use:
Adult drinks and drives, crashes car; adult admits to smoking when younger.
Reviewed By MaryLou