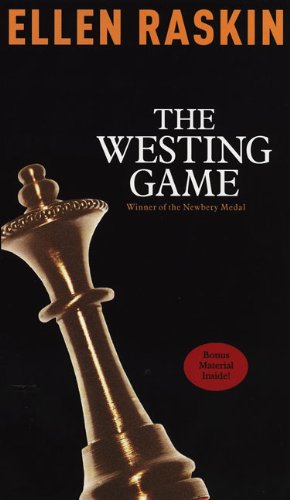 Publisher's Note:
A Newbery Medal Winner

For over thirty-five years, Ellen Raskin's Newbery Medal-winning The Westing Game has been an enduring favorite.

This highly inventive mystery involves sixteen people who are invited to the reading of Samuel W. Westing's will. They could become millionaires-it all depends on how they play the tricky and dangerous Westing game, a game involving blizzards, burglaries, and bombings! Ellen Raskin has created a remarkable cast of characters in a puzzle-knotted, word-twisting plot filled with humor, intrigue, and suspense.
The Westing Game
by Ellen Raskin
Overall Review:
Sixteen heirs are summoned to a reading of the $2 million will of Sam Westing. The catch is they have to solve the murder of their inheritor first by playing The Westing Game. This middle grade mystery novel follows the actions of these 16 heirs as they try to discover who is the murderer amongst them with four different clues given to each of the eight partnerships. All the while avoiding the perils of thievery, bombs, and the potential murder of their own.
The reader follows the who's who along with the characters, discovering bits and pieces of each character and how their lives are intertwined until the final reveal!
This suspenseful story is a fun read and keeps your mind engaged as you try to reach the answer before the characters do.
Content Analysis:
Profanity/Language: 3 mild obscenities; 1 derogatory name.
Violence/Gore: Death of character; description of rotting corpse – referred to several times; person runs off a cliff; blood on hands of a character; implied death/mental health of a 3rd party; implied revenge; 3rd party character drowns; auto-accident with serious injuries; description of dead body; a few references to implied murder and/or suicide; praise of murder; mention of murder of living human being in cold blood; implied murder of person for money; reference to being targets for murder; dripping red liquid; 4 bombs/explosions including a house burning to the ground; theoretical nice kid killing 13 people; implied kidnapping for ransom; several facial injuries; character uses finger as automatic rifle and shoots at other characters; death of character supposedly by poison; other characters die of natural causes in wrapping up the story.
Sex/Nudity: None
Mature Subject Matter:
Murder, death, bombs/explosions.
Alcohol / Drug Use:
Adult and friend smoking in car; adult teaches underage male how to bartend; bourbon on cotton used as a toothache remedy for minor child; man assumed drinking on the job; reference to character being on the bottle again; couple consumes 3 bottles of wine on evening out and are drunk at a gathering that follows.
Reviewed By Lacey