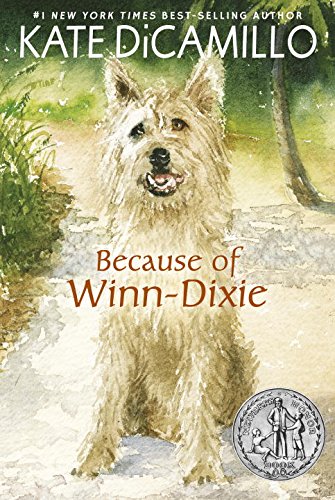 Publisher's Note:
An unforgettable first novel about coming of age one sweet summer—and learning to love what you have.

The summer Opal and her father, the preacher, move to Naomi, Florida, Opal goes into the Winn-Dixie supermarket—and comes out with a dog. A big, ugly, suffering dog with a sterling sense of humor. A dog she dubs Winn-Dixie. Because of Winn-Dixie, the preacher tells Opal ten things about her absent mother, one for each year Opal has been alive. Winn-Dixie is better at making friends than anyone Opal has ever known, and together they meet the local librarian, Miss Franny Block, who once fought off a bear with a copy of WAR AND PEACE. They meet Gloria Dump, who is nearly blind but sees with her heart, and Otis, an ex-con who sets the animals in his pet shop loose after hours, then lulls them with his guitar.

Opal spends all that sweet summer collecting stories about her new friends and thinking about her mother. But because of Winn-Dixie or perhaps because she has grown, Opal learns to let go, just a little, and that friendship—and forgiveness—can sneak up on you like a sudden summer storm.

Recalling the fiction of Harper Lee and Carson McCullers, here is a funny, poignant, and utterly genuine first novel from a major new talent.
Because of Winn-Dixie
by Kate DiCamillo
Overall Review:
India Opal is new to Florida and happens upon a dog that becomes her own. This Newbery Honor Book follows her as she discovers her new city and the people who live there. The reading pace is easy as the main character expresses herself well and provides talking points for an adult to guide a reader through – such as abandonment and choices people make.
This book is a bit different from DiCamillo's style of Tale of Despereaux, in that it is more simply told from the perspective of one character and is more true to life. The main theme of the book is the feeling of needing to belong and loving what and who one has, as well as letting things and people go who do not want to stay.
I wish the author had gone into more detail. The characters are so interesting and set up so beautifully that the reader can relate easily to them. By the end of the book, I wanted to know what the future held and where their stories led. However, as with any book, an author is limited to how much to tell and how much to leave to the reader's imagination.
Content Analysis:
Profanity/Language: 4 mild obscenities.
Violence/Gore: A few depictions of events during the Civil War; deaths of loved ones; report of police officer being hit and man being arrested.
Sex/Nudity: None
Mature Subject Matter:
Child abandonment, minor employed by man previously incarcerated (for hitting a cop), health issues (seizures).
Alcohol / Drug Use:
Mother of character alcoholic; bottles of alcohol as decoration.
Reviewed By Lacey