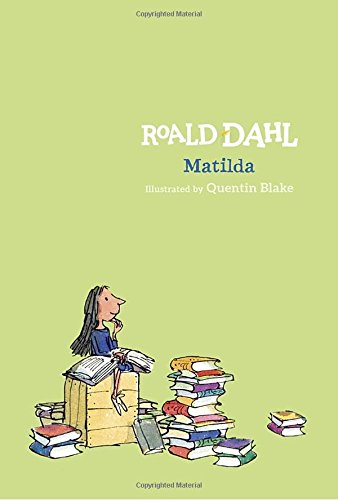 Publisher's Note:
From the bestselling author of Charlie and the Chocolate Factory and The BFG comes the story of girl with extraordinary abilities. Matilda is a sweet, exceptional young girl, but her parents think she's just a nuisance. She expects school to be different but there she has to face Miss Trunchbull, a kid-hating terror of a headmistress. When Matilda is attacked by the Trunchbull she suddenly discovers she has a remarkable power with which to fight back. It'll take a superhuman genius to give Miss Trunchbull what she deserves and Matilda may be just the one to do it!
Matilda
by Roald Dahl
Overall Review:
If you are looking for a book that sparks your imagination, has you rooting for the underdog, and passes the test of time, then Matilda is for you. This book is great for male and female readers alike. The mischievous nature of the children is palpable and you instantly get behind their causes. The creative antics they come up with to surpass the villain are ingenious.
Matilda, which won the Children's Book Award in 1988, is a classic example of Roald Dahl's writing. He uses illustrative language, which grabs the reader's attention immediately, and keeps the reader engaged the whole book through. He uses a high vocabulary that stretches the reader, yet in context is completely understandable. Throughout the book are his traditionally unique drawings to emphasize certain high points of the story. He does not censor his characters or the real-life scenarios they are in. The violence is presented in a cartoonish manner. It was interesting to read the novel from an adult perspective as opposed to a child's perspective. I grew up on Matilda and don't remember the extent of the violence. However, without it, the villain would not be as fearsome as she is, nor would the reader be as invested in the outcome of the children.
Matilda is a must read, especially for curious, cunning children who want good to win and evil to pay the consequences of their actions.
Content Analysis:
Profanity/Language: 2 religious exclamations; 1 anatomical term.
Violence/Gore: Threat of revenge; several verbal threats of violence; several cartoon violence acts; a few references to beating children with birch; description of a torture box for children to stand in – involving broken glass and nails; verbal threats from adult towards child of going into said box; adult throwing child out of window resulting in broken bones (cartoon violence); adult throwing child by hair (cartoon violence); adult breaks glass platter over head of child (cartoon violence); adult grabs child by hair and holds up in air then drops child (cartoon violence); adult grabs child by ears hanging in the air (cartoon violence); verbal reference to adult being a human bomb and blowing them to bits; reference to headmaster using birch to beat children to the point you could fry eggs and bacon on their backsides; verbal threat of having someone's skin to use for sausage; threat of having a fly spray/fly paper for children; verbal threat to beat with belt buckle; verbal reference to suicide/homicide of adult; adult pushed head of child under the bath water; adult held child in air by holding onto child's leg (cartoon violence); threat of homicide.
Sex/Nudity: 1 incident of bosomy female being embraced.
Mature Subject Matter:
Parental neglect, dishonesty, orphans, slave/child labor, abusive adult in leadership role.
Alcohol / Drug Use:
None
Reviewed By Lacey