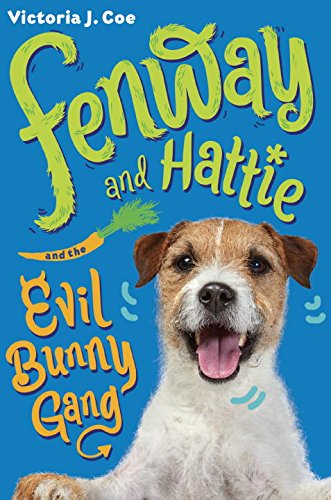 Publisher's Note:
When evil bunnies invade the Dog Park, Fenway's hot on their trail. Hattie seems understandably alarmed, though she clearly doesn't appreciate his efforts. She shoos him out of the garden and fills in holes as fast as he can dig them!

Fenway wonders if his beloved Hattie could be working against him, until she brings home a cage with a bunny inside. He can hardly control his excitement - she captured one of the intruders! But when Fenway realizes Hattie actually likes the bunny, he's crushed. Is his heart big enough to accept that Hattie can love another pet, too?

In this sequel to Fenway and Hattie, these two best buddies learn that making the right choice can be tough, but being a real friend is the greatest choice of all.
This book was sent to Compass Book Ratings for review by G.P. Putnam's Sons Books for Young Readers
Fenway and Hattie and the Evil Bunny Gang
by Victoria J. Coe
Overall Review:
Fenway and Hattie and the Evil Bunny Gang is the second in a series. It is not necessary to read the first book in order to enjoy and follow this one. Fenway is a Jack Russell Terrier and the book is told from his perspective. He only understands a few human words and he has his own names for things. (For instance, the mom in the family is the "Food Lady".) Ms. Coe does capture the frantic, hyper, Jack Russell Terrier personality; at times it is a bit exhausting to follow Fenway around because he really never "gives it a rest". There are strong themes of friendship, responsibility, and honesty for both the dogs and humans in this novel.
This book would be good for readers even younger than nine. In particular, it would be an excellent story to read with an adult, as a tool to teach new readers how to make inferences, draw conclusions from clues, and read between the lines. Because everything is seen from Fenway's perspective, the action needs to be "interpreted/translated" from dog into human, and this is a great skill for emerging readers.
Review of an Advance Reader's Copy
Content Analysis:
Profanity/Language: None
Violence/Gore: None
Sex/Nudity: None
Mature Subject Matter:
None
Alcohol / Drug Use:
None
Reviewed By Cindy