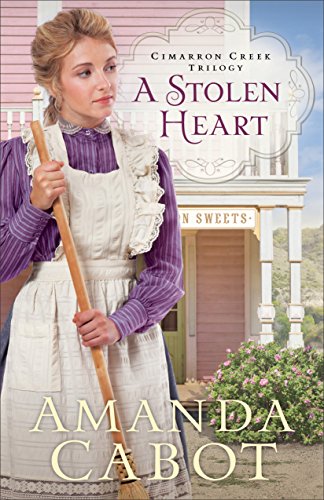 Publisher's Note:
From afar, Cimarron Creek seems like an idyllic town tucked in the Texas Hill Country. But when former schoolteacher Lydia Crawford steps onto its dusty streets in 1880, she finds a town with a deep-seated resentment of Northerners--like her. Lydia won't let that get her down, though. All will be well when she's reunited with her fiancé. But when she discovers he has disappeared--and that he left behind a pregnant wife--Lydia is at a loss about what to do next. The handsome sheriff urges her to trust him, but can she trust anyone in this town where secrets are as prevalent as bluebonnets in spring?

Bestselling author Amanda Cabot invites readers back into Texas's storied past to experience love and adventure against a backdrop of tension and mystery in this first book in a brand-new series.
This book was sent to Compass Book Ratings for review by Revell
A Stolen Heart
by Amanda Cabot
Overall Review:
A Stolen Heart begins the Cimarron Creek Trilogy by Amanda Cabot. This historical fiction piece is enjoyable. Many of the characters were interesting and likeable. The main character of the story, Lydia, is great. She is a strong person without being obnoxious. She really exemplifies positive character traits such as kindness, forgiveness and determination.
Cabot includes some mystery and danger in this book. She writes in such a way that readers are fairly confident how things will go and yet want to keep reading just to see it happen. There are a few surprises sprinkled into the plot, but as a whole it is predictable.
Several things set this book apart from many others. Not everything goes according to the desires of the reader. Somethings are happier and some much sadder than expected. It is almost disappointing to discover the criminal. Be prepared to laugh, to cry, and to contemplate. Lessons taught are many and fun as you join the characters in A Stolen Heart.
Review of an Advance Reader Copy
Content Analysis:
Profanity/Language: None
Violence/Gore: A character recalls a man having blood on his hands; report of a character falling from horse and breaking neck; two men get into a fist fight; report that characters were beaten to death or near unto death, one instance indicates multiple bones were broken; report that a person was poisoned; a person confesses to rapes, killing animals and people; a person holds another at knife point and threatens to slice; a character plunges a knife into his own chest, no details, but it is lethal.
Sex/Nudity: Non-married characters embrace and kiss; several references made to a rape, but no details; a man refers to a woman as a whore; references are made to unmarried woman being pregnant.
Mature Subject Matter:
Adultery, death of parents, spouse, friend, murder, rape.
Alcohol / Drug Use:
Report that a person consumes strong drinks; a character possesses whiskey; people drink alcohol in a saloon.
Reviewed By Susan