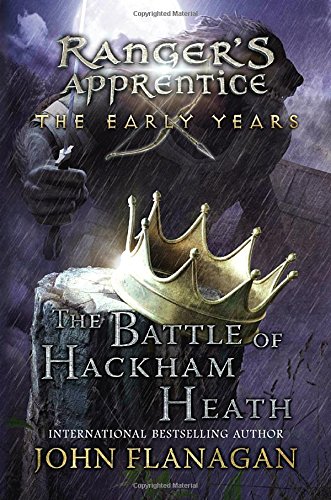 Publisher's Note:
John Flanagan, author of the bestselling Ranger's Apprentice fantasy adventure epic, delivers a second prequel to Ruins of Gorlan, the novel that started it all, with Halt and Crowley preparing for war against a near-unstoppable enemy

When the former Baron Morgarath escaped to avoid punishment for treason, an uneasy peace fell on Araluen. But Morgarath, now in hiding, is already planning his next move, recruiting an army of savage, overpowering beasts known as Wargals. Newly crowned King Duncan knows he must assemble his troops for battle.

To find out the full extent of Morgarath's plan of attack, Halt prepares for a seemingly impossible task--climbing the deadly cliffs of the Mountains of Rain and Night and venturing deep into enemy territory to spy. After all, the winner of this war could be determined by one wrong move.

At the Battle of Hackham Heath, the fate of a Kingdom will be decided. This origin story of how Halt came to be Araluen's most famous Ranger – and how war will decide the future of the next generation – will thrill Ranger's Apprentice fans and new readers alike.
Ranger's Apprentice The Early Years Book 2: The Battle of Hackham Heath
by John Flanagan
Overall Review:
Whether this is the first in the series you pick up or just the latest, the story does not disappoint. It is fantastic to get a glimpse into the early years of many of the characters that we have come to know and love throughout the series. Wrought with wit and wisdom, each character reveals something new about themselves. The dry humor between the characters is often entertaining and there is much to be learned from their devotion to duty and each other. A few surprising characters even fill in the details of this action-packed story.
John Flanagan, the author, has written a second vibrant prequel to the series which already has twelve books in the series. The characters are well-developed, the setting is beautifully described, and there is even a map at the beginning so we can see the layout of this wonderful world. The quality of writing is smooth and easy to read. Flowing off the pages, this story's pacing is energetic and suspenseful. Written in a way that although there are many battles between good and evil, the author is mindful of the age demographic. Non-stop action makes this a potentially good read for middle grade readers, young adults, and adults.
Content Analysis:
Profanity/Language: 3 mild obscenities.
Violence/Gore: Mention of a character who previously broke his leg, no blood or details; characters who previously died in attacks; character knocked unconscious; scary character like beasts who form an army, kill anybody and get killed by swords and arrows, some blood throughout the book but not typically gory; multiple characters attack, are captured, tied up, a few killed but no bloody or gory details; multiple characters killed by man-beasts throughout book, usually no gory details, some blood; items thrown at character with intent to kill; evil character plans to take over country; man-beasts attack multiple villages; a mother dies, no blood or gore but brief screams of pain, brief description of weakened mother, grave and burial; woman shot a man in the chest; the war: much death on both sides, maiming, slashing, hacking, blood mentioned but no gory details, some details of attacks, & beasts mourn their dead; man decapitated in battle, no gory details; 3 man-beasts are burned in a battle, mention of the smell of burning flesh, one beast almost decapitated; character dragged into ditch and killed by man-beasts, mention of his screams.
Sex/Nudity: Multiple bad guys forced to strip naked & tied up, non-sexual, no details.
Mature Subject Matter:
Weapons, armies, death in war, death of a parent, annihilation of villages.
Alcohol / Drug Use:
None
Reviewed By Beth