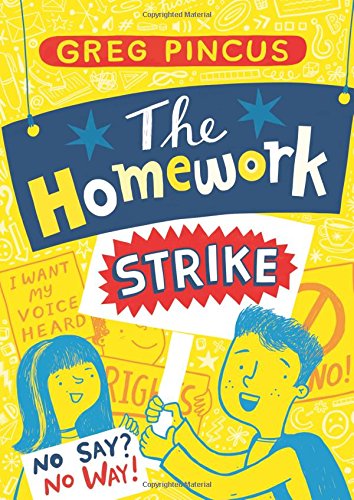 Publisher's Note:
Gregory K. has too much homework.

Middle school is hard work, and Gregory tries to be a good student. He participates in class, he studies for his tests -- he and his friends even help each other with their assignments. But no matter what he does, there's never enough time to finish all his homework. It just isn't fair.

So Gregory goes on a total, complete homework strike. No worksheets, no essays, no projects. His friends think he's crazy. His parents are worried about his grades. And his principal just wants him to stop making trouble. Can Gregory rally his fellow students, make his voice heard, and still pass seventh grade?

Find out in this book for anyone who thinks school is stressful, gets headaches from homework, or just wants to be heard.
This book was sent to Compass Book Ratings for review by Arthur A. Levine (A Scholastic Imprint)
The Homework Strike
by Greg Pincus
Overall Review:
Can one seventh grader really make a difference? Does taking a stand really work in the end? Is homework really necessary or even helpful? Gregory K. is out to find the answers to these questions and more, in the witty, cleverly-written middle grade novel by Greg Pincus, The Homework Strike. Just how far will Gregory take his stand against homework to get his point that homework has gotten out of control across? Well, you'll just have to read to find out.
Gregory is your average 7th grader, getting average grades, but he is getting increasingly frustrated that he can't spend more time on his true passion: writing poetry (side note: each chapter starts out with one of his clever poems). The reason for this is homework, and after a lesson about events leading up to the Revolutionary War, he realizes he has had enough. Now this might sound like a book about a rule-breaking, troublemaker, but it is in fact quite the opposite. There is a method and reason behind Gregory's defiance and he is a surprisingly thoughtful kid. By the end of The Homework Strike one learns exactly how a 7th grader can make a difference.
Content Analysis:
Profanity/Language: None
Violence/Gore: None
Sex/Nudity: None
Mature Subject Matter:
None
Alcohol / Drug Use:
None
Reviewed By Sally