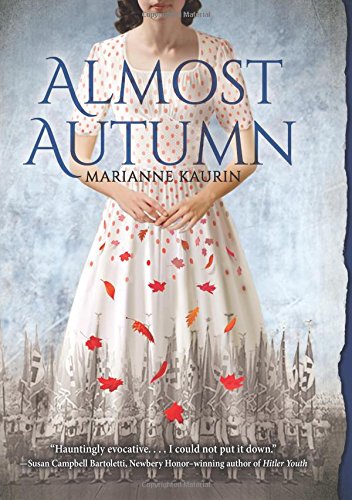 Publisher's Note:
It's October 1942, in Oslo, Norway. Fifteen-year-old Ilse Stern is waiting to meet boy-next-door Hermann Rod for their first date. She was beginning to think he'd never ask her; she's had a crush on him for as long as she can remember.

But Hermann won't be able to make it tonight. What Ilse doesn't know is that Hermann is secretly working in the Resistance, helping Norwegian Jews flee the country to escape the Nazis. The work is exhausting and unpredictable, full of late nights and code words and lies to Hermann's parents, to his boss... to Ilse.

And as life under German occupation becomes even more difficult, particularly for Jewish families like the Sterns, the choices made become more important by the hour: To speak up or to look away? To stay or to flee? To act now or wait one more day?

In this internationally acclaimed debut, Marianne Kaurin recreates the atmosphere of secrecy and uncertainty in World War II Norway in a moving story of sorrow, chance, and first love.
This book was sent to Compass Book Ratings for review by Scholastic
Almost Autumn
by Marianne Kaurin, Rosie Hedger
Overall Review:
The basis of Almost Autumn is exploring how chance could be a factor in the lives of those who experienced the Holocaust, a fascinating thought as you read through the pages of this novel. Fifteen-year-old Ilse is the middle child of a Jewish family living in Norway in 1942, during the German occupation. Being the main character, the story is told primarily from her perspective but it also changes to other viewpoints from time to time, which added to the complexity of the plot. It's interesting to hear the story from the view of different characters because often times things aren't as they seem. Author Marianne Kaurin created diverse characters, a favorite of which was Ilse's older sister, Sonja, who is responsible and the perfect daughter, but who has a surprise up her sleeve. As one would expect, the story makes its way to the horrific events that occurred during the Holocaust but Kaurin only hinted or briefly mentioned some of the awful incidents while leaving plenty up to the imagination. Kaurin is from Norway herself and having grown up hearing stories told by several family members with personal experiences during the German occupation, she is able to provide details that might not be widely known, which made the story feel that much more believable. Extremely engaging, suspenseful and poignant, Almost Autumn is a must-read for anyone interested in historical fiction.
Review of an Advance Reader's Copy
Content Analysis:
Profanity/Language: 5 religious exclamations; 14 mild obscenities.
Violence/Gore: Many (21) brief incidents including fake story of man holding prisoner who he starves; joke that compares shooting a man; reference to animal getting killed; potential for characters to get killed; reference to war; secondhand reports of characters getting hit with clubs; reference to torture; secondhand report of character cutting hand on glass; secondhand reports of characters getting hit and kicked; reference to death penalty; secondhand report of men getting killed; character slaps another to keep quiet; graffiti on store window; characters getting hit; air raids.
Sex/Nudity: Several (18) brief incidents including secondhand report of character rubbing another's arm; hugging; holding hands; cuddling; touching hand, cheek and hair; female character's ripped clothing not covering her completely and she uses arm to attempt coverage; characters remove clothing for baths (seen by others); characters forced to get naked in prison; nude painting; reference to breasts; character considers stuffing bra; implication of married couple having sex.
Mature Subject Matter:
Genocide, poverty, war.
Alcohol / Drug Use:
A few incidents of adult characters drinking alcohol; minor offered cigarette; characters smoking during work break.
Reviewed By Jenny