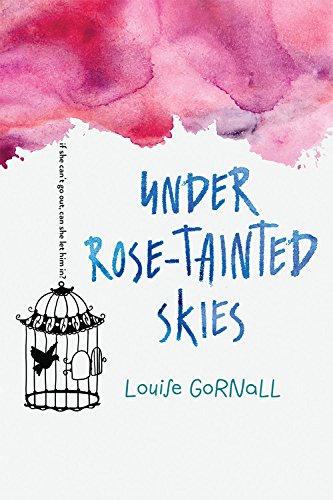 Publisher's Note:
Norah has agoraphobia and OCD. When groceries are left on the porch, she can't step out to get them. Struggling to snag the bags with a stick, she meets Luke. He's sweet and funny, and he just caught her fishing for groceries. Because of course he did.
Norah can't leave the house, but can she let someone in? As their friendship grows deeper, Norah realizes Luke deserves a normal girl. One who can lie on the front lawn and look up at the stars. One who isn't so screwed up.
Readers themselves will fall in love with Norah in this poignant, humorous, and deeply engaging portrait of a teen struggling to find the strength to face her demons.
This book was sent to Compass Book Ratings for review by Houghton Mifflin Harcourt
Under Rose-Tainted Skies
by Louise Gornall
Overall Review:
Under Rose-Tainted Skies gives us an intimate yet rare view into the life of someone with mental illnesses. Author Louise D. Gornall deals with mental illness herself and used her experiences to give a firsthand view as she translates it all into a fictional character by the name of Norah. Norah is a high school student (home schooled) who tries to maintain some normalcy through social media and while she suffers from these frustrating disorders, she's also quite witty and what one would consider "normal". Being able to learn a bit about someone who is dealing with OCD, depression and agoraphobia was eye-opening. Not only do you consider yourself in Norah's (and Gornall's) shoes, but you also think about life from the perspectives of her mother, therapist and friends who desperately want to help her. Despite the help from others and desire for change, Norah says, "...it's like my mind and brain are two separate things, working against each other. I can't get them to cooperate." She further describes its debilitating effects when she says, "The brain is basically an evil dictator."
Gornall is so incredibly brave to share her personal experiences through Norah and will help others better understand mental illness from a new perspective. As you learn about the realities of mental illness, this story is both fascinating and heart-wrenching. It doesn't just focus on Norah's disorders, it also includes high school drama, love triangles, and has a really suspenseful scene that will have you speed reading. This book was life-changing and I highly recommend it to anyone age 16+.
Review of an Advance Reader's Copy
Content Analysis:
Profanity/Language: 20 mild obscenities; 1 religious profanity; 4 derogatory names; 16 scatological words; 12 anatomical terms; 10 f-word derivatives.
Violence/Gore: Many (36) brief incidents including character sarcastically thinking about wishing someone would kill her; character prepares for various catastrophes; several incidents in which character imagines violent things that could happen to her; reference to S&M; character thinking about people in movies dying; references to killers; metaphor of glass tearing up brain; character jokes about cannibalism; reference to exorcism; character wonders if another is a killer; reference to torture; secondhand report of character having to get staples after falling; reference to earthquake killing many; secondhand report of animal dying; secondhand report of car accident; story of girl who died; television show about people who were beat by their spouses; reference to measles outbreak; reference to murderers; several incidents of character subconsciously scratching self until bleeding; character purposely cuts self.
Sex/Nudity: Character wishing mother would flirt with men; character watching movies about kissing; character imagining guy grabbing her butt; kissing; touching arm and hand; holding hands; character sees cartoon pic of man's genitalia; reference to man wanting sex; reference to adult getting pregnant; character imagining someone getting pants pulled down; character makes reference to being at gynecologist; character jokes about taking off clothes and clinging to another character; characters fast forward through sex scene in movie.
Mature Subject Matter:
Mental illnesses, self-harm (cutting), insinuated underage drinking.
Alcohol / Drug Use:
Character wishes her mom would get drunk for fun; character sounding like a drunk; reference to medicine making you half drunk; character imagining teens getting high and drunk; character's mom taking painkillers in hospital; story about girl who was high; character worrying about another getting addicted to prescription drugs; character imagining another teen drinking beer; character thinking another is high; adult drinking wine; character smelling like weed.
Reviewed By Jenny