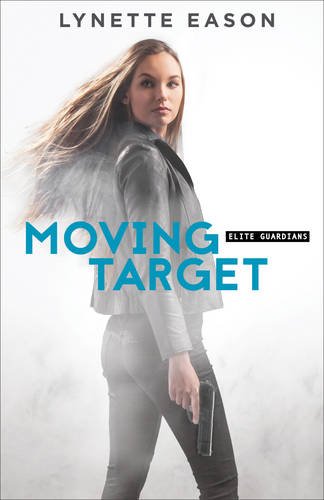 Publisher's Note:
When Maddy McKay and Quinn Holcombe don't show up for Quinn's surprise birthday party, his friends know that something is very wrong. Their search turns up little beyond evidence that Quinn and Maddy just decided to take off for a long overdue vacation. But it soon becomes apparent that they did not leave of their own accord.

Maddy awakens in a cement room with no idea where she is. But it's not long before she realizes she's in the clutches of a madman exacting revenge by hunting. His prey of choice? Humans. Now Maddy and Quinn must run for their lives, hoping to find their killer before the next game begins. Because if they don't win this game, they die.

Fast, furious, and flirty, Lynette Eason's relentless suspense barely gives her readers time to catch their breath in this third thrilling installment of the Elite Guardians series.
This book was sent to Compass Book Ratings for review by Revell
Moving Target (Elite Guardian Series)
by Lynette Eason
Overall Review:
Moving Target is the third book in the Elite Guardians series by Lynette Eason. The book works as a standalone, but it is always nice to know the backstory of the supporting characters. Some of the backstory really helps build understanding of the decisions made by the characters.
The premise of this novel is disturbing and not a warm and cozy read by any stretch of the imagination. It involves a serial killer and his messed-up thought processes. The characters in the story are injured both physically and emotionally, and as one would expect, many people have been murdered.
Lead protagonists Maddy and Quinn are characters introduced in the previous books, and this book wraps up their challenges pretty well. The struggles are very emotionally draining and many discussions center on God and His place in characters' lives. Some of these interactions come off a bit too cheesy and full of cliché phrases. Other times the author conveys important messages in meaningful ways.
Readers who enjoy lots of intense action scenes will find this book appealing and those who enjoy having romance thrown into the mix will also appreciate this story. The fourth book is expected later this year and then the series is complete.
Review of an Advance Reader's Copy
Content Analysis:
Profanity/Language: None
Violence/Gore: Many references to a serial killer who dismembered many victims and killed others with blunt force trauma to the head; people are sprayed with a toxin; characters are shot at with guns and crossbow bolts, sometimes resulting in blood; report that a character's throat was slit, but not fatal; a dog bites a human and draws blood; multi-page intense scene in which two characters are hunted by another person, including injuries, blood and the discovery of many decomposing corpses; report of females being kidnapped, raped and killed; a man is discovered bleeding from a gunshot wound in an apparent suicide; graphic description of finding a person dead from a self-inflicted gunshot wound to the head; character smothers another person to death; a character is shot lethally; report of a person being shot and killed.
Sex/Nudity: Non-married characters kiss and embrace; report that a character had an affair.
Mature Subject Matter:
Murder, rape, suicide, marital infidelity, revenge.
Alcohol / Drug Use:
An adult consumes alcohol and it is reported that he sometimes consumes an excess quantity.
Reviewed By Susan