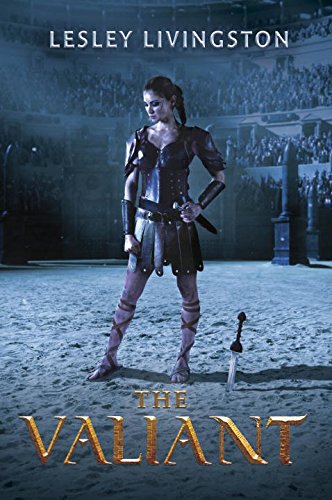 Publisher's Note:
Princess. Captive. Gladiator. Always a Warrior.

Fallon is the daughter of a proud Celtic king and the younger sister of the legendary fighter Sorcha. When Fallon was just a child, Sorcha was killed by the armies of Julius Caesar.

On the eve of her seventeenth birthday, Fallon is excited to follow in her sister's footsteps and earn her place in her father's war band. She never gets the chance.

Fallon is captured and sold to an elite training school for female gladiators—owned by none other than Julius Caesar himself. In a cruel twist of fate, the man who destroyed Fallon's family might be her only hope of survival.

Now, Fallon must overcome vicious rivalries, deadly fights in and out of the arena, and perhaps the most dangerous threat of all: her irresistible feelings for Cai, a young Roman soldier and her sworn enemy.

A richly imagined fantasy for fans of Sarah J. Maas and Cinda Williams Chima, The Valiant recounts Fallon's gripping journey from fierce Celtic princess to legendary gladiator and darling of the Roman empire.
This book was sent to Compass Book Ratings for review by Razorbill
The Valiant
by Lesley Livingston
Overall Review:
I was pleasantly surprised by this book. When reading the book jacket and excerpts I thought I was going to be reading a gory book with a very steamy romance. Instead what I read was a great story that was well balanced with enough action and romance to keep the book moving, but not overly done so as to lose any semblance of a story line.
This is a book about a female gladiator; so, action, fighting and peril are inherent. But this is also a book about a girl coming to terms with the world around her. With those things that she thought were truth but were not and with what freedom and its price really means to her.
The plot twist in the middle of the book will leave you reeling for a few chapters. I won't give it away, but I never saw it coming. And it makes the story just that much more compelling. A few laughs, a little romance, a lot of courage and strength round out this book making it a good read. Boys and girls alike will find the almost cliffhanger ending just enough to keep them breathless for what I hope will come in the second installment of Fallon's story.
Review of an Advance Reader's Copy
Content Analysis:
Profanity/Language: 9 mild obscenities, 6 derogatory names.
Violence/Gore: Numerous threats of physical bodily harm up to and including death; swords held to necks as a threat; report of females being beaten (twice); reports of death in battle and due to illness (no detail); report of a chariot accident with injuries (minor detail); falls with bumps and bruises; sparring with practice weapons including bumps, bruises, slaps, kicks, hits; female bites another's hand; wrestling fight; gladiator fight with weapons in arena with no blood or death; knee to groin (twice); two page fist fight with bruises and blood; dead bird left on pillow and nailed to door as warning; two females beat another female with kicking, punching, hitting leaving numerous bruises; broken rib during sparring practice; numerous bloody wounds as result of sparring or actual fighting in arena; searing of amputated arm with hot coals; ox rolls over man with bloody head depicted; female lies in a pool of blood after arm amputated in practice match; two page sword battle ending with chopping off of head; three page sword battle with blood and death of multiple people; two page battle with pirates with bloody wounds and death of multiple people; trident (three pronged weapon) is thrust thru abdomen of opponent with blood and death; two instances of sword battles with end result of person being impaled on bloody swords (death); depiction of people eating man's heart out of his dead corpse; three page battle enactment with destruction of chariots, battle wounds and death.
Sex/Nudity: Male and female kiss 7 times; walking arm and arm; naked man lying in infirmary (no detail); caressing of arms and face twice; mention of prostitutes and brothel.
Mature Subject Matter:
Gender and racial conflicts, death of family members and friends, war, ethics of slavery, prostitution.
Alcohol / Drug Use:
Beer drinking; wine drinking to excess; use of hallucinogenic herbs and plants.
Reviewed By Beckie