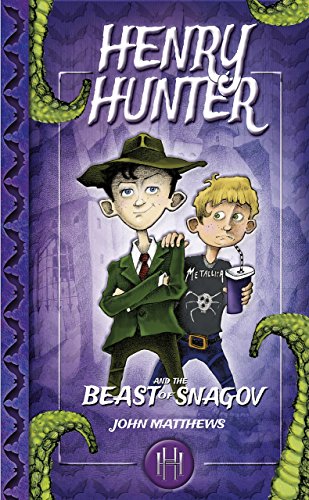 Publisher's Note:
Adolphus Pringle lived a relatively normal life before he met Henry Hunter, but being the best friend of a twelve-year-old millionaire genius certainly makes life interesting. He has accompanied Henry on adventures all over the world and encountered dozens of supernatural creatures. Henry has a penchant for paranormal mysteries, and he never fails to drag his trusty sidekick, Dolf, into adventures to track down the truth in these mystical legends.

Henry announces one morning that he and Dolf are going to go in search of a creature more terrifying than Dracula himself: the Beast of Snagov. The pair of supernatural investigators travel from where Bram Stoker stayed in Whitby to Transylvania. Along the way they come across some strange things such as Dracula's daughter, Bella, and an organization called the Order of the Dragon that wants to sacrifice Henry Hunter to the Beast of Snagov. When Henry is taken, it's up to Dolf and Bella to team up and rescue him!

Will Henry survive this supernatural adventure? Get ready to discover the world of the supernatural through the eyes of our spooked narrator as he tags along on the first adventure in the Henry Hunter series!

Sky Pony Press, with our Good Books, Racehorse and Arcade imprints, is proud to publish a broad range of books for young readers—picture books for small children, chapter books, books for middle grade readers, and novels for young adults. Our list includes bestsellers for children who love to play Minecraft; stories told with LEGO bricks; books that teach lessons about tolerance, patience, and the environment, and much more. While not every title we publish becomes a New York Times bestseller or a national bestseller, we are committed to books on subjects that are sometimes overlooked and to authors whose work might not otherwise find a home.
This book was sent to Compass Book Ratings for review by Sky Pony Press
Henry Hunter and the Beast of Snagon
by John Matthews
Overall Review:
Henry Hunter has never met a mystery he didn't want to chase, and he always brings his sidekick, Dolf, along for the ride. But when he decides to investigate an ancient monster, he just may have bitten off more than he can chew.
Henry Hunter and the Beast of Snagov by Jason Matthews is a thoroughly entertaining thrill ride. Matthews' writing style and characters are quite reminiscent of Sherlock Holmes, with the story told after the fact by Dolf, the somewhat timid Watson persona. Dolf is quite a bit smarter and braver than he believes, as well as being a loyal and mostly willing accomplice to Henry's pursuits. Henry is the Sherlock of the story, incredibly astute with near unlimited resources and freedom for a thirteen-year-old; his curiosity seems to get the better of him more often than not. Throw in a secret society and a 700-year-old vampire and you have the makings of an adventure that will not be easily overlooked.
Complete with a twist ending and a masterful cliffhanger to set up the series, Henry Hunter and the Beast of Snagov will keep any mystery lover on the edge of their seat well past the last page.
Content Analysis:
Profanity/Language: None
Violence/Gore: Character hangs out of window; character hopes that flute is not made of human bone; reference to nearly being killed by giant bug; character jokes about blood on walls; character breaks window; boy runs into other boy; a few references to Dracula's death; several instances of boy being attacked by unknown group; several references to Vlad the Impaler and his deeds; reference to historical war; a few references to vampire activity; reference to man threatening villagers; character suspended in mid-air then dropped; character falls over; a few instances of implied death; ruin decorated with skulls on stakes; a few instances of boy cutting cheek; several extended scenes of fighting involving vampires, monsters and men; character fears being bitten by vampire; map marked in blood; character slips, men plan to feed boy to monster; reference to destruction caused by monster; explosion; vampire bites character; character goes missing.
Sex/Nudity: None
Mature Subject Matter:
Supernatural/vampires, secret societies, history and literature.
Alcohol / Drug Use:
None
Reviewed By Amberle