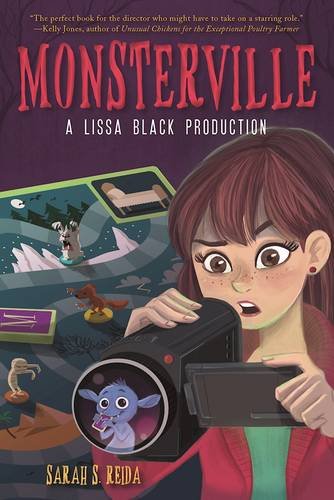 Publisher's Note:
Beware what lurks beneath your bed. . . . It could lead to a monstrous adventure.

Thirteen-year-old Lissa Black is miserable when her parents force her to move from New York City (the perfect home for an aspiring writer/director/actress) to Freeburg, Pennsylvania, nowhere capital of the world. There's nothing to do there, except play her little sister Haylie's favorite new game, Monsterville, and hang out with her new neighbor Adam.

But when a walk in the woods lands her face-to-face with a swamp monster hungry for brains and then a Sasquatch that moos, even Lissa can't call her new home totally boring. With Adam's help, she catches the culprit behind the drama: a shape-shifting goblin who's fled from the monster world of Down Below.

And what do you do with a creature that can be literally anything? Make monster movies, of course! Lissa is convinced that Blue will be the secret to her big break.

But when Haylie goes missing on Halloween, Lissa, Adam, and the monster must venture Down Below to stage a rescue—and face the real Monsterville, which is anything but a game.

Monsterville is a fusion of The Boxtrolls, Jumanji, and Candyland, weaving together friendship, family, and monsters into a funny fantasy-horror brimming with heart from a great new middle grade voice.
This book was sent to Compass Book Ratings for review by Sky Pony Press
Monsterville: A Lissa Black Production
by Sarah S. Reida
Overall Review:
Lissa Black sees the world through the lens of a camera--she is after all going to be a famous film maker one day; her school is even going to produce a play she wrote. There is only one problem, her parents are forcing her to move from New York to rural Pennsylvania. There is nothing cinematic about Freeburg, unless you want to make a horror film of course. But Lissa gets the scoop of her dreams the day she meets Blue.
Monsterville by Sarah S. Reida is a wonderfully fun twist of a monster novel with plenty of heart. Lissa is an intelligent and loyal young woman. Despite her vast distaste for her new home, the good face she puts on for her younger sister and her openness with Adam, her new neighbor, as he shows her around help to keep her out of the "mopey teen" trap and keep her thoroughly likable. Ms. Reida rounds out the supporting cast well with Boy Scout Adam, five-year-old Hailey, and of course the little monster, Blue. The innocence of Hailey and Blue are a perfect counterpoint to the older two and provide a solid glue to bind and keep Adam and Lissa together, even when someone is taken and they must face the monsters of Down Below.
Monsterville is an exciting story of family and friendship (laced with some good old-fashioned zombies and werewolves) that any reader is sure to enjoy.
Content Analysis:
Profanity/Language: None
Violence/Gore: Many references to horror movie conventions, often ending in death; reference to store being robbed; character references being shoved; character trips; character attacked by swamp monster; character cuts forehead; character fears leading boy to death; character references possible medical condition; character believes boy will win against monster; character falls down; character references hunting; boy shoves girl; children set a trap for monster; several instances of girls shoving boys; character references electrocution; bug bites girl; several references to child abduction; character stumbles, dizzy; monster nudges girl; monster drools on girl; character uses monster to make scary movie; zombie's jaw falls off; character hits head; girl pushes monster; character wishes she had a slingshot; boy jokingly references girl hitting someone; character scrapes hands; reference to boy lighting himself on fire; monster references monsters dying; monster references other monster's deeds; girl hits another girl; character pulled off bed; monsters kidnap girl; lightbulbs fall on children; several extended scenes of children battling monsters, sustaining several minor injuries; girl slaps monster's hand; children nearly fall off bridge; monster accidentally hits girl with stick; character stubs toe; girl elbows boy; monster kicks girl.
Sex/Nudity: A few instances of married adults kissing; woman teasingly references kissing; boy and girl hold hands in play; a few instances of boys and girls holding hands, implied romantic; boy and girl sit shoulder to shoulder; boy hugs girl; monster hugs girl; girl kisses boy.
Mature Subject Matter:
Supernatural, abduction.
Alcohol / Drug Use:
None
Reviewed By Amberle