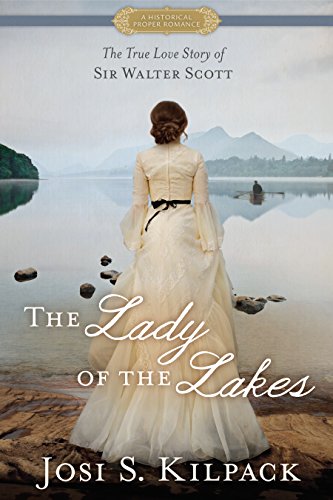 Publisher's Note:
It's 1796 and nineteen-year-old Walter Scott is in love. For the past few years, he has been engaged in a long-distance courtship, writing love letters to his childhood sweetheart, Mina.
Though both Walter and Mina are young and from different stations in society, they share the same love of literature, a passionate temperament, and a restless heart. They know their love is meant to be. Walter feels sure Mina is the muse he needs to bring every dream of his life to fruition. But the distance between the two lovers proves too great, and when Mina meets the handsome and charming William Forbes, she is swept away, and the two quickly announce their engagement.
Brokenhearted, Walter takes refuge in the lake country of England where he resigns himself to life of misery and heartache. But then he meets Charlotte, a French girl, who, at twenty-six, has resigned herself to the fact that she will never find love. Despite their age difference, the two become cautious friends, but Charlotte's quiet disposition and keen mind intrigue Walter. She is so different from Mina, yet perhaps, for Walter, it may be that his perfect match is a woman who calms him and helps him keep his feet on the ground. Though wary of risking his heart a second time, he finds himself falling deeply in love with her.
In the end, he is able to forgive Mina, forget his heartbreak, and forge ahead in a new relationship, realizing that there is a vast difference between a man's ''first love'' and his ''true love."
This book was sent to Compass Book Ratings for review by Shadow Mountain
The Lady of the Lakes: The True Love Story of Sir Walter Scott.
by Josi S. Kilpack
Overall Review:
The Lady of the Lakes: The True Love Story of Sir Walter Scott is an enchanting read. As a novel in Shadow Mountain's Historical Proper Romance series, Lady of the Lakes is based on actual events. Beloved romance author Josi S. Kilpack shines in her portrayal of Sir Walter in his quest for love. Kilpack goes to great lengths to recreate eighteenth century Great Britain, even capturing the subtle accents of the differing historical figures. Lady of the Lakes has plenty of dreamy and romantic scenes, but its strength is in its authenticity. Kilpack doesn't shy from including the extreme heartbreak and rejection in Sir Walter's life, which provides a depth of emotion seldom found in romances. At the back of the novel, chapter notes and a timeline differentiate fact from fiction. The Lady of the Lakes is highly recommended for historical fiction and/or romance fans!
Content Analysis:
Profanity/Language: None
Violence/Gore: A few secondhand reports of violence including references to a riot and battle.
Sex/Nudity: Frequent incidents of kissing; multiple sexual references involving having children, mistresses, barmaids low-cut attire and the marriage bed; a few reported incidents of sexual activity including an extramarital affair.
Mature Subject Matter:
Death of family members, rejection, abandonment, social status, prejudice.
Alcohol / Drug Use:
The characters eat dinner in a pub; characters drink ale or port with meals.
Reviewed By Rachel