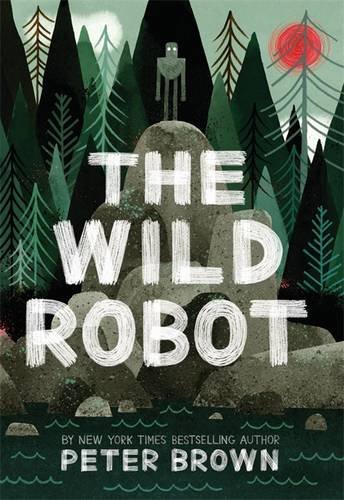 Publisher's Note:
Can a robot survive in the wilderness?
When robot Roz opens her eyes for the first time, she discovers that she is alone on a remote, wild island. She has no idea how she got there or what her purpose is--but she knows she needs to survive. After battling a fierce storm and escaping a vicious bear attack, she realizes that her only hope for survival is to adapt to her surroundings and learn from the island's unwelcoming animal inhabitants.
As Roz slowly befriends the animals, the island starts to feel like home--until, one day, the robot's mysterious past comes back to haunt her.

From bestselling and award-winning author and illustrator Peter Brown comes a heartwarming and action-packed novel about what happens when nature and technology collide.
A New York Times Bestseller
An Amazon Best Book of the Year Top Pick
New York Public Library 2016 Best Books for Kids Choice
Kirkus Best Children's of 2016 Pick
School Library Journal Best of 2016 Pick
The Wild Robot
by Peter Brown
Overall Review:
Peter Brown is an award-winning author and illustrator of children's books. The Wild Robot is his debut novel for middle grade readers. It has already hit the New York Times Best Seller List and has been selected for several "Best of 2016" lists. It is quite a charming and captivating tale, and some have compared it to the likes of Charlotte's Web, in this regard.
While it is tempting to categorize this book as science fiction because of the advanced robot, or perhaps slot it as fantasy because the animals talk to one another, it is really a survival story with strong themes about adaptation, learning, acceptance, and friendship. Mr. Brown has also included many illustrations that complement the narrative. Stylistically, it lends itself to being an excellent read-aloud; likewise, with its brief chapters and direct, simple style it would be a splendid novel for those young readers transitioning to full-length novels.
Interestingly, this book is left a bit open-ended for a middle grade book that is not obviously part of a series. Mr. Brown does a nice job though of assuring young readers that things will resolve and be all right.
Content Analysis:
Profanity/Language: None
Violence/Gore: Destruction of property by natural forces; machine attacked by animals; animals hunt each other for food (no description); accidental death of a family of animals; animal tries to eat another animal; machine fights with bears resulting in damage; destruction by fire; frozen bodies of animals who died from cold are encountered, no description; report of animals being shot and one being killed; extended scene in which machine struggles/fights other machines; extended scene in which animals attack and destroy machines violently, somewhat graphic and extended descriptions, animals also injured.
Sex/Nudity: None
Mature Subject Matter:
Survival, death of family (animal), animals eating each other for food.
Alcohol / Drug Use:
None
Reviewed By Cindy