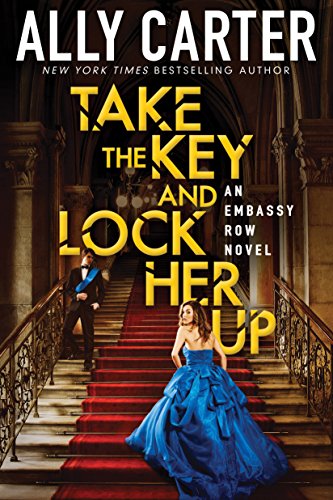 Publisher's Note:
New York Times best-selling author Ally Carter returns with the third entry in this runaway series.
For the past three years, Grace Blakely has been desperate to find out the truth about her mother's murder. She thought it would bring her peace. She thought it would lead her to answers. She thought she could put the past to rest. But the truth has only made her a target.
And the past? The only way to put the past to rest is for Grace to kill it once and for all.
This book was sent to Compass Book Ratings for review by Scholastic Press (A Scholastic Imprint)
Take the Key and Lock Her Up (Embassy Row #3)
by Ally Carter
Overall Review:
Adding even more intrigue, romance, and action, the third and final installment of Ally Carter's Embassy Row series, Take the Key and Lock Her Up (Embassy Row #3), is a crowning event in what has been a thrilling series.
16-year-old Grace continues to narrate the novel as she is on the run of her life, because she is actually running for her life. Pursued by an unknown attacker, or perhaps attackers, the chase becomes an international quest to solve a puzzle nearly 200-years in the making. Howbeit some wish to expose it, others would have it kept a secret, and all the while Grace is caught in the middle.
With the second novel in the series, See How They Run (Embassy Row #2), leaving readers with a cliffhanger, the third novel kicks off a few weeks after the explosive reveal. Although the first two novels in the series are essential to Grace's backstory, they only revved the engine on the adventure; the third novel really takes off, with a flurry of activity and a rush of excitement. The secondary characters that we've come to love continue with their indispensable support and some new characters emerge, surprising readers with who is friend and who is foe.
Author Ally Carter does a fantastic job of tantalizing readers with just the right amount of secrets and suspense to keep readers' attention until the very end. Her inclusion of creative facets adds to the story's appeal (like why her titles use words from nursery rhymes). It's this attention to detail that make this reviewer a fan of not only this series, but of the author.
A satisfying end to an intriguing YA series, Take the Key and Lock Her Up (Embassy Row #3) is a royal mystery worth your pursuit.
Content Analysis:
Profanity/Language: None
Violence/Gore: Extended scene (about 2 pages) playful fighting; character is wanted for murder (mentioned few times); character points gun at character in a threatening manner; remarks that characters' lives are in danger/attempted murder (mentioned throughout the novel); mention of past murders, mentioned few times; character angrily throws objects against wall; report of murder for hire, mentioned throughout novel; character admits to accidentally killing their parent (acknowledged throughout novel); report of character shooting another character; report of character being stabbed in an assassination attempt (mentioned throughout novel); playful threat; exaggerated thought of violence (2x); humorous violent thought (2x); extended scene (about 2 pages) characters fight off attackers, explode side of building and attackers' cars to escape; extended scene (about 2 pages) characters threaten violence against one another and members of their family; story of family being killed by a mob (this is referred to throughout the book); character slaps another character in rage; character falls down stairs, suspicion of murder; character hits another character over the head causing loss of conscious; character corners character threatening them while holding a weapon; extended scene (about 3 pages) character sets a room on fire while another character is inside, characters confront one another, shots are fired, injuring 2 characters; report of violence; mention of character receiving scars from fire; mention of broken bones when younger.
Sex/Nudity: Mention of animals mating; 15+ incidents of characters being romantic with one another, touches on face, running fingers through hair, embracing, passionate kissing, handholding, winking, flirting; a few mentions of arranged marriage/teen characters set to marry one another to produce and heir; joke about male giving birth to baby; joke about nudity; mention that married male had a mistress.
Mature Subject Matter:
Murder/attempted, murder/assassination/killing, mental health/PTSD/hospitalization, death of parent, conspiracy/espionage/secret society.
Alcohol / Drug Use:
Character sees a drunk individual on the street; character drugs another character into unconsciousness; mention of mental hospital patient receiving medications (mentioned few times).
Reviewed By MaryLou