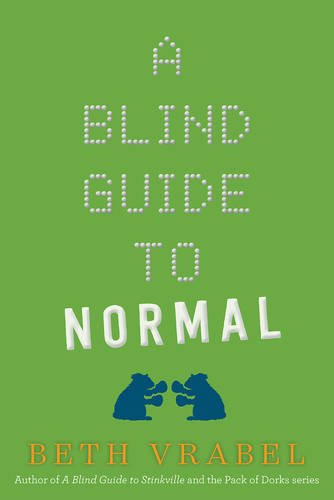 Publisher's Note:
Richie "Ryder" Raymond has a gift. He can find the punchline in any situation, even in his limited vision and prosthetic eye. During the past year at Addison School for the Blind, Ryder's quick wit earned the respect and friendship of his classmates. Heading to mainstream, or "normal," school for eighth grade is going to be awesome.

After all, what's not to like? At Addison, Ryder was everyone's favorite person. He could make anyone laugh, especially his best friend Alice. So long as he can be first to make all of the one-eyed jokes, Ryder is sure he'll fit in just as quick at Papuaville Middle School, home of the Fighting Guinea Pigs. But Alice warns him fitting in might not be as easy as he thinks.

Turns out, Alice was right. In just the first hour of "normal" school, Ryder is attacked by General MacCathur II (aka, Gramps's cat), causes his bio teacher to pass out cold, makes an enemy out town hero Max, and falls for Jocelyn, the fierce girl next door who happens to be Max's girlfriend. On top of that, Ryder struggles to hold onto his dignity in the face of students' pity and Gramps's non-stop practical jokes.

Ryder quickly sees the only thing worse than explaining a joke is being the punchline. But with help from his stuck-in-the-70s Gramps and encouragement from Alice, Ryder finds the strength to not only fight back, but to make peace.

This exciting sequel to A Blind Guide to Stinkville weaves humor, recovery and second chances into an unforgettable story, with characters who will hook you from page one.
This book was sent to Compass Book Ratings for review by Sky Pony Press
A Blind Guide to Normal
by Beth Vrabel
Overall Review:
Ryder is ready for a more normal life, something he hasn't really had since he was seven years old. After losing his right eye to cancer, Ryder has attended the Addison School for the Blind, but now, at the start of his seventh-grade year he gets to transition to a regular school. Despite his best friend Alice's warning that his expectations may be high, Ryder believes he will continue to be top dog at his new school. Ryder never imagined that not only would "normal" not live up to the hype, but that it's more complicated than he ever thought possible.
In her much-awaited follow-up to A Blind Guide to Stinkville, author Beth Vrabel delivers another touching must read in A Blind Guide to Normal. Ryder is a smooth-talking joker, determined not to let the loss of an eye dictate how he feels and lives his life. As in her first book, Vrabel utilizes a marvelously diverse group of supporting characters, each trying to cope with loss in very different ways, to highlight the various forms human emotions can manifest. The author's approach to grief and tragedy is beautifully subtle, masterfully illustrating how differently people work such a complex issue as loss.
A Blind Guide to Normal is the perfect addition to A Blind Guide series and will have readers laughing and crying along with the characters contained within its pages.
Content Analysis:
Profanity/Language: 3 religious exclamations; 1 mild obscenity.
Violence/Gore: Several instances of boy's false eye being taken out; girl slaps boy's hand; boy elbows girl, playfully; man zaps boy with hand buzzer; man firmly pats boy's shoulder; many instances of a cat attacking boy's extremities; boy makes several joking references about killing cat; boy walks into walls; boy makes reference to cat eating a dog; older woman's death referenced several times; boy wishes to be crushed; boy runs into girl; character passes out; boy jokingly references "killing the teacher"; references to boy losing eye; character pokes finger with needle; boy references kicking an ant hill; children in a crowd push each other; several facetious references to a boy wanting to harm another boy; reference to a song about depression and suicide; boy hits head on light; man elbows boy; boy makes up stories about how he lost his eye; girl knocks flower out of boys hand; several references to a boy dying in a fire; many scenes of fighting in controlled, martial arts settings; boy elbows man; girl asks boy if he'd like to be beat up; boy "fake-punches" other boy; boy shoulders other boy; boy breaks other boy's nose; character has burns on arms; character describes the life cycle of a Mayfly; boy pushes chair into other boy, causing him to fall; character gets sick; woman threatens to "kill" boy; group destroy property.
Sex/Nudity: Many instances of a boy and girl touching romantically (hugging, hand-holding, etc.); boy swings girl around; boy and girl kiss; girl hugs boy, platonic; woman kisses old man's cheek; boy touches girl's shoulder; girl grabs boy's wrist; boy touches girls hand; boy and girl almost kiss; boy puts his head on girl's shoulder.
Mature Subject Matter:
Cancer, death, loss, grief, bullying, self-control.
Alcohol / Drug Use:
None
Reviewed By Amberle