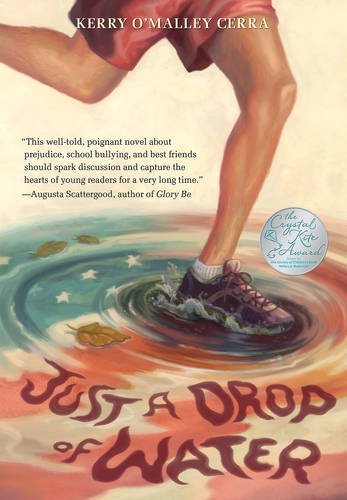 Publisher's Note:
Ever since he was little, Jake Green has longed to be a soldier and a hero like his grandpa, who died serving his country. Right now, though, he just wants to outsmart—and outrun—the rival cross country team, the Palmetto Bugs. But then the tragedy of September 11 happens. It's quickly discovered that one of the hijackers lived nearby, making Jake's Florida town an FBI hot spot. Two days later, the tragedy becomes even more personal when Jake's best friend, Sam Madina, is pummeled for being an Arab Muslim by their bully classmate, Bobby.

According to Jake's personal code of conduct, anyone who beats up your best friend is due for a butt kicking, and so Jake goes after Bobby. But soon after, Sam's father is detained by the FBI, and Jake's mom doubts the innocence of Sam's family, forcing Jake to choose between his best friend and his parents. When Jake finds out that Sam's been keeping secrets, too, he doesn't know who his allies are anymore. In the end, Jake must decide: either walk away from Sam and the revenge that Bobby has planned, or become the hero he's always aspired to be.

A gripping and intensely touching debut middle grade novel by Kerry O'Malley Cerra, Just a Drop of Water brings the events of September 11, which shook the world, into the lens of a young boy who is desperately trying to understand the ramifications of this life-altering event.

Sky Pony Press, with our Good Books, Racehorse and Arcade imprints, is proud to publish a broad range of books for young readers—picture books for small children, chapter books, books for middle grade readers, and novels for young adults. Our list includes bestsellers for children who love to play Minecraft; stories told with LEGO bricks; books that teach lessons about tolerance, patience, and the environment, and much more. While not every title we publish becomes a New York Times bestseller or a national bestseller, we are committed to books on subjects that are sometimes overlooked and to authors whose work might not otherwise find a home.
This book was sent to Compass Book Ratings for review by Sky Pony Press
Just a Drop of Water
by Kerry O'Malley Cerra
Overall Review:
Near perfection is all that really needs to be said about Kerry O'Malley Cerra's Just a Drop of Water.
September 11, 2001 changed the world so dramatically that it boggles the mind to think there are young people in high school now who will only ever know about it through a history class. Kerry O'Malley Cerra's book touched me deeply. At fourteen in 2001, only one year older than our main characters, I experience the events of that day in a nearly identical manner as Jake and Sam. I remember how the whole country seemed to rally and, just like Jake experiences, I remember the impotent anger and disgust at the ignorance of those who chose hate instead of hope. While O'Malley Cerra doesn't go into the graphic detail some authors are want to do, the very essence of that day and those that followed are distilled into every page.
Just a Drop of Water is an absolute must read and quite possibly one of the most important pieces of children's literature written about 9/11.
Content Analysis:
Profanity/Language: 1 religious exclamation; 1 mild obscenity; 5 derogatory names, including racial slurs; 1 offensive hand gesture.
Violence/Gore: Many references to military-style weapons; references to boys pushing and tripping others; reference to boy getting "pants"; boy grabs other boy's arm; boy shoves other boy; references to grandparent being killed; girl smacks boy; children believe neighborhood man is a vampire; character collapses on lawn; reference to character breaking his arm; boy throws ball at other boy; man hits boy; boy teases other boys about fear of neighbor; boys wrestle; boy slaps other boy on the back; several instances of boys getting in physical altercations; extended scene and extensive references to Sept 11 attacks; boy attacked for racial reasons; several times boy wishes to fight other boys; boy slaps mans hand away; boy squeezes other boy's hand to cause pain; boy spits on other children's food; boy trips other boy; boys bump shoulders; man gives boy noogie; reference to family pet dying; boy's father killed; character falls; family worries father is dead; character hit by tree branches; character falls hard, injures ankle; references to racial discrimination; references to hostage situation ending in several deaths; girl sprays boy with silly string; boy worries other boy might be hit; man speaks of being at Pearl Harbor; young characters vandalize a mosque; boy hits other boy in the stomach.
Sex/Nudity: Many instances of people hugging in relief and for comfort; adults kiss each other's cheeks in greeting; humorous story of man losing swimsuit.
Mature Subject Matter:
Death, war, heroism, prejudice, bullying, tolerance, terrorism, depression, anxiety, forgiveness, 9/11.
Alcohol / Drug Use:
None
Reviewed By Amberle