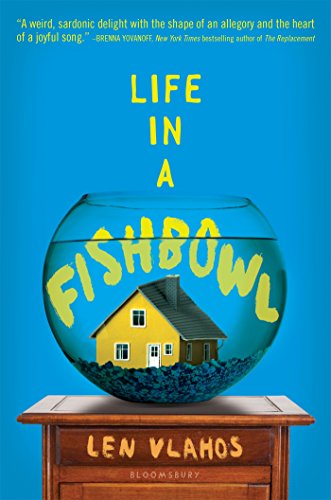 Publisher's Note:
Fifteen-year-old Jackie Stone's father is dying.

When Jackie discovers that her father has been diagnosed with a terminal brain tumor, her whole world starts to crumble. She can't imagine how she'll live without him . . .
Then, in a desperate act to secure his family's future, Jackie's father does the unthinkable--he puts his life up for auction on eBay. Jackie can do nothing but watch and wait as an odd assortment of bidders, some with nefarious intentions, drive the price up higher. The fate of her entire family hangs in the balance.
But no one can predict how the auction will finally end, or any of the very public fallout that ensues. Life as Jackie knows it is about to change forever . . .
In this brilliantly written tragicomedy told through multiple points of view--including Jackie's dad's tumor--acclaimed author Len Vlahos deftly explores what it really means to live.
This book was sent to Compass Book Ratings for review by Bloomsbury Children's Books
Life in a Fishbowl
by Len Vlahos
Overall Review:
Promoted as a tragicomedy, Life in a Fishbowl by Len Vlahos is heavy on the tragic, and unfortunately for this reviewer, missed the funny bone on the comedy.
What is even more disappointing, and why I feel so let down with this particular novel, is that the promotional jacket is so appealing – a teenage girl, Jackie, is not only dealing with the fact that her dad has a terminal brain tumor, but that her family's adversity is being broadcast to millions of people in an outlandish way, all in the name of entertainment and money.
And it started out good. Narrated in third person format, which I first thought as odd, since it is promoted as being Jackie's story, but it still worked, and then not too far along, it started to become Jared's (Jackie's Dad) story, which was still OK. Then Jackie's Dad's tumor starts sharing its view point – different, cool, and a creative step for the author to pull, but still OK. Three character's viewpoint, is not so bad, but then 3 became 4,5, 6, 7, and I think I lost count, but there were about 8 different characters angling for camera time, or in this case, page time: a nun, a gamer, a TV executive, a billionaire playboy, a Facebook friend from Russia, a sister, a tumor, an ailing dad, and last but not least, Jackie. Unfortunately, the adults get to tout most of the story, which is sadder still because two of them happen to be sadistic males with sociopathic penchants. It's not until three-quarters of the way through the novel that the teens start to make a more apparent appearance and reclaim some of the storyline, but by that time I had a headache, and it wasn't enough to rally. I, like the father in the story just wanted it to be done with.
The characters, though well-developed, were just too much. There were too many adults, and their backstories got in the way, rather than adding to the intrigue of the story. If the novel stayed true to how it was being advertised, I think it would have been a great story and a much better YA format for the development of the subjects, such as a family's stance on euthanasia, the lows of the entertainment industry, and how American culture viewership is more of a voyeur-ship.
A provocative tale for the young adult audience, and I heavily emphasize the word adult. In contrast, if you're looking for something bitter sweet that celebrates the bond of family during tragedy, I highly recommend Falling Over Sideways, by Jordan Sonnenblick.
Review of an Advance Reader Copy
Content Analysis:
Profanity/Language: 4 religious exclamations; 16 mild obscenities; 3 religious profanities; 12 derogatory names; 9 scatological words; 4 anatomical terms; 24 F-word derivatives. Note: Not tallied, anagrams for SOB, and LMAO.
Violence/Gore: Extended scene (about 1 page) character has violent (humorous thought); ad contains violent implications; character has thoughts about murder, becomes obsessed with the idea of murdering another character; brain cancer tumor is used in a violent context; violent thought; news report of violence; extended scene (about ½ page)character formulates a plan to kill another character; extended scene (about ½ page) character uses knife to kill what he/she believes is another character (void of blood/gore, but very disturbing!); character sees violent picture; report of death threats; memory of teacher striking a child; brief mention; violent thought (humorous); in a rage character punches a wall, injury mentioned; extended scene (about ¼ page) adult smacks child, child punches adult, blood mentioned; wife suffocates comatose husband ending their life; mention of actors fatal drug overdose/implication of suicide.
Sex/Nudity: A few (about 5) instances of married couple kissing; memory of kiss; implication of sex; female says she feels like a prostitute; brief remark of pornography being available on the internet; mention of male having sexual encounters; report of adult male character manipulating a 14-year old female to have sex with him; mention of 14-year old being a prostitute; mention of LGBT issues and abortion; children overhear parents having sex; mention of hooker; joke of nuns being pregnant; report of male sleeping around; the words horny is used; male notices female's chest, becomes excited; child provokes sibling to say she is a lesbian; adult sends 15-year old girl naked pictures of themselves; report of adults filming and watching underage girls and adult woman shower without their knowledge; implication that character molested another child when they too were a child; mention of perverts and pedophiles; teens hold hands.
Mature Subject Matter:
Assisted suicide/euthanasia/human rights, terminal illness, sociopathic tendencies, sexting/pornography.
Alcohol / Drug Use:
A few mentions of adults drinking and smoking; adult reveals they were an alcoholic as a teenager; a few drug references/drug uses by adult; mention of actor's fatal drug overdose/implication of suicide.
Reviewed By MaryLou