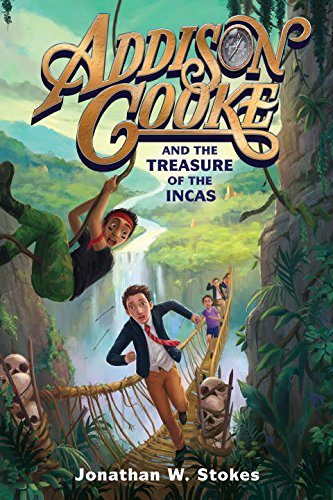 Publisher's Note:
The Goonies meets Indiana Jones and James Patterson's Treasure Hunters in this funny, action-filled adventure series!

Twelve-year-old Addison Cooke just wishes something exciting would happen to him. His aunt and uncle, both world-famous researchers, travel to the ends of the earth searching for hidden treasure, dodging dangerous robbers along the way, while Addison is stuck in school all day.

Luckily for Addison, adventure has a way of finding the Cookes. After his uncle unearths the first ancient Incan clue needed to find a vast trove of lost treasure, he is kidnapped by members of a shadowy organization intent on stealing the riches. Addison's uncle is the bandits' key to deciphering the ancient clues and looting the treasure . . . unless Addison and his friends can outsmart the kidnappers and crack the code first. So it's off to South America, where the excitement, danger, gold, booby traps, and car chases are never-ending!

Full of laugh-out-loud moments and nonstop action, and perfect for fans of Indiana Jones or James Patterson's Treasure Hunters series, Addison Cooke and the Treasure of the Incas is sure to strike gold with kid readers.
This book was sent to Compass Book Ratings for review by Philomel
Addison Cooke and the Treasure of the Incas
by Jonathan W. Stokes
Overall Review:
Addison Cooke has always known what he wants to be when he grows up: an archeologist. The fact that his entire family are archeologists only reaffirms his desire. But when his aunt and uncle are kidnapped, Addison gets the hands-on experience he craves much sooner than expected.
Addison Cooke and the Treasure of the Incas by "Author" is an exciting, semi-historical adventure that even Indiana Jones would tip his fedora to. Our dashing hero is Addison, a smooth talking thirteen going on thirty-five-year-old. Addison's unflappable confidence (marred only by a fear of heights) propels him and his gang of sidekicks into an unforgettable quest. Supporting Addison are a diverse group of friends: Molly, his athletic younger sister; Eric, the timid linguist; and Raj, the overzealous survivalist and all-around adrenaline junkie. Throw in some help from a local thief and the reader is treated to an ensemble that does not lack for entertainment. Beautifully tucked in with our young explorers, "Author" provides the reader a window into a lesser known story from the conquest of the Incan people by the conquistador Pizarro.
Addison Cooke and the Treasure of the Incas is the perfect blend of action, history, and heart that will keep the reader coming back for more.
Review of a Advance Reader Copy
Content Analysis:
Language/Profanity: 2religious exclamations.
Violence/Gore: Character warns aunt will "kill them; character falls off shelf; character steps in front of cyclist; many references to the violence committed during the Incan conquest; girl threatens to hit boy; reference to prisoners being thrown off walls; apartment ransacked; two adults kidnapped; character hit with Walkie-Talkie; character steals wallet several times; boy tackles other boy; many instances of violent booby-traps being sprung; children throw rocks at men; several instances of man threatening/attacking children with knife; man slaps boy; man hold boy by neck; boy engages man in knife fight; girl breaks man's foot; groups of people collide; a few references to the dangerous animals of the Amazon; character jokingly references starving to death; children go over a waterfall; children find statue with blood on it; references to cannibalistic Amazon tribes; reference to parents dying in a car accident; reference to parents being killed by mercenaries; several references to treasure hunters dying; character attacked by snake; character burned on leg; children chased by cannibals; references to gangster's crimes; a mural depicts battle; boy and girl captured by guards; boy hits man with board; man holds knife to girls throat; girl slices man's ear with knife; girl kicks man; men shoot at children; children recklessly drive car; extended scene of a car chase; children crash car; police conspire to have children killed; children's family threatened; character breaks water pipe, children nearly drown; character breaks wall; character falls in cave; character kicks man, hurts foot; character hurts head on coins; man tries to burn family at the stake; group trap another group in flooding room.
Sex/Nudity: None
Mature Subject Matter:
Death of parents, violent history, illegal activity, friendship, survival.
Alcohol / Drug Use:
Adult smokes pipe; a few scenes of adults drinking; adult offers children alcohol.
Reviewed By Amberle